Storm Sandy: Data hubs damage concerns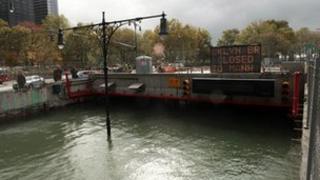 As Americans assess the aftermath of storm Sandy, regulators warn that the situation for communication networks could get worse before it gets better.
The storm knocked out 25% of mobile phone towers across 10 states, forcing them to move to generator power.
Flooding in Manhattan has also left many data centres reliant on generators.
There are concerns that they could run out of fuel before normal power is restored.
The US Federal Communications Commission is monitoring the status of communication equipment and has asked all providers to inform them if they need access to more fuel.
Manhattan is a major transit point for telecommunications.
The flood damage knocked out websites and forced telecoms carriers to reroute international traffic.
Verizon Communications, one of the US's biggest phone companies, said some of its buildings in Manhattan were flooded, shutting down phone and internet services.
Fake stories
Renesys Corp, which monitors the pathways of the internet, said the storm caused major outages in New Jersey and New York.
While some websites were offline, the internet fared quite well and millions of those affected by the storm turned to Twitter, both to get help and to keep up to date with news.
But not all of the reports carried by the social network proved accurate, with the crisis spawning a flurry of fake stories.
These included tweets claiming that the New York stock exchange was under water and photoshopped images sharks in the streets.
The tweet about the stock exchange was widely circulated and reported on air by CNN.
Government bodies used Twitter to issue evacuation orders and updates.
As the New York fire department's phone lines jammed, local people turned to its Twitter account @fdny to ask for help.
Meanwhile, the Red Cross of America used updates from Twitter to create a heat map of where most help was needed.