Pitching Kickstarter to the UK: Will it be the Brits' cup of tea?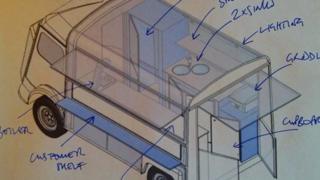 Emilie Holmes wants to change how you feel about tea.
She wonders why coffee is seen as the stylish hot drink - with millions of people every day enjoying a catch-up-with-a-friend coffee, or a quick-informal-business-meeting coffee, or even an unintimidating-first-date coffee.
But tea? She says it never gets a look-in.
Her new business, Good and Proper Tea, will aim to give tea an image overhaul - but in order to do so, she wants your money so she can renovate a classic 1974 Citroen H van and begin what she hopes will be something of a tea empire.
Emilie's quintessentially British cup of entrepreneurship is one of many ideas that will be seeking financial backing via Kickstarter which, following considerable demand, has now launched in the UK.
In its own words, Kickstarter is a "funding platform for creative projects. Everything from films, games, and music to art, design and technology".
It invites anyone to sign up and post an idea in the hope that their enthusiasm is matched by the Kickstarter community. In exchange for various perks (which can range from simple postcards to walk-on parts in films), backers hand over their money.
If the target set by the entrepreneur is met, the money is transferred over - and the real work begins.
It seems to be a winning formula. Since launching in 2009, there have been 70,000 funded projects - a success rate of over 40%. And the numbers are striking: $10m (£6.2m) for Pebble, a smartphone-inspired watch; $8m for Ouya, a games console where all the games are free.
While at this year's Sundance Film Festival, 10% of all entrants were funded at least in part by Kickstarter users. In the site's video games section, more than $60m has been raised.
Zero budget
But in Britain, where it would not be unfair to suggest projects may be viewed with a slightly more cynical eye, will visitors be as keen to part with their money?
"I have no idea!" admits Yancey Strickler, head of community at Kickstarter.
"I think that what's motivating people to get involved in these projects isn't because they want to crowdfund something. I don't think anyone really cares about that.
"I think people get involved in projects because they like the stories behind them, because it's an artist they really love, or it's an idea that's just inspiring to them - and they want to see it exist."
One person confident in Britain's enthusiasm for crowdfunding is Nick Allen.
Nick's business, Brikstarter, is not seeking funding but is instead looking to help others hone their Kickstarter funding pitches.
"What Kickstarter did was to bridge a gap between spending tens of thousands of pounds to launch a product to market to making it down to a couple of thousand pounds," he says.
"What we're doing is bridging a gap from zero budget to Kickstarter. You don't have to raise any money, you just have to come to us with the idea."
From there, Brikstarter say they can create prototypes, using their 3D printing facilities, and produce any necessary components to the pitch - be it cost analysis, supply chain management or simply making an accompanying video.
Brikstarter's costs are paid for by taking a 10% cut of the whatever cash is eventually raised for the project - a calculation that is factored in - and comes on top of the 5% Kickstarter itself takes from each successful pitch.
Exposed scam
Following in the footsteps of its US counterpart, the UK Kickstarter will, from launch, feature several pitches focused on video games.
It is in this industry, perhaps more so than in any other, where Kickstarter has proved to be controversial.
Video game titles have been some of the biggest hitters. One game, Project Eternity ended its funding run this month with $3,986,929. Another, Double Fine Adventure, scooped $3,336,371 back in March.
But other projects have faltered. Haunts, which raised $28,739 in June, has been canned, owing to it no longer having any developers working on it.
Another game, titled Mythic: The Story of Gods and Men, was exposed as a scam, although the ruse was discovered before any money was taken from backers.
Despite the risks, the UK's trade body for the video games industry is fully behind developers who want to use crowdfunding.
"It's fantastic to have another source of finance," says Richard Wilson, chief executive of Tiga, the UK's games industry association.
"Developers are often having to rely on global publishers who can be risk averse, or banks. Kickstarter brings a very viable source of finance for the games sector.
"It will allow more creative projects to be undertaken."
Blown away
Like so many online communities or projects, perhaps Kickstarter's biggest threat could be its popularity.
The major projects like Ouya and Pebble are too early in their development to be deemed either a success or a failure - but should either product not see the light of day, for whatever reason, it would create a serious stumbling block for a site which bases much of its success on momentum.
However, Yancey Strickler is not concerned. He says that the "blockbuster" projects are not what the site is really about.
"The amounts that people have been raising this year have really blown us away," he said, noting that over 16 projects have hit seven figures.
"[But] the majority of projects are raising about five or six thousand dollars - that's the typical project.
"The exciting thing about Kickstarter is the directness of it. You're putting money directly in the hands of someone that you want to support.
"You're empowering them to do something that they want to do. That's not something that many people get the opportunity to do in life."