Kickstarter crowdfunding website launches in the UK
By Dave Lee
Technology reporter, BBC News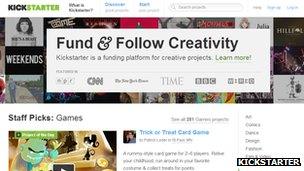 Crowdsourced funding website Kickstarter has launched in the UK.
The site, on which users seek money for creative or product-based ideas, has so far raised more than $340m (£211m) - with 5% of each successful pledge going to Kickstarter.
Until now, new businesses using the site to raise cash for projects had to set up an account in the US.
Co-founder Yancey Strickler told the BBC that there are plans to expand the site to other countries soon.
"The request to expand internationally has long been one of our most requested features," Mr Strickler, who is the site's head of community, said.
"We certainly are interested. We're going to see how the UK launch goes and figure out the next moves from there. There's a lot of places that will be interesting."
Since launching in 2009, more than 70,000 projects have been pitched on Kickstarter - with a success rate of just over 40%.
Businesses or individuals pitching on the site typically offer a range of perks in return for money. Pledges can be anything from £1 to thousands of pounds.
While launched originally as a site for mainly artistic projects, such as plays or film-making, the site has become known for attracting a large number of products aimed at the technology community.
Among the most successful has been video games console Ouya, which raised $8,596,474 after initially asking for $950,000. Another, the Pebble Watch, raised $10,266,845 from a pitch aiming to realise $100,000.
However, some industry figures are concerned that Kickstarter's early excitement may suffer if big projects do not deliver what was intended.
One video game project, Haunts, recently stopped production after its development team quit.
"I am still determined to get the game out," wrote Mod Rules Games boss Rick Dakan. "But I no longer have any way of knowing when and how that will happen."
Unlike traditional methods of backing new companies, investors on Kickstarter do not gain a share of the company, nor do they have any say in its future operation.
"I think the key thing is that backers need to be confident that the projects they're backing will raise enough money to complete the project they're envisaging," said Ben Holmes, a partner at London-based venture capital firm Index Ventures.
"What people are getting from Kickstarter is not equity. They're getting early access, or signed t-shirts and so on.
"The investors in Kickstarter projects are doing it largely altruistically, it's not really a financial investment for them."
Similar websites, such as IndieGoGo and PleaseFund.Us, also offer crowdfunding to UK businesses - but they are yet to gain the same widespread appeal as the American site.
"Although there are lots of other sites in the UK, none of them quite have the same credibility as Kickstarter," said Emilie Holmes, an entrepreneur who is launching her takeaway tea business using Kickstarter on Wednesday.
"I think it's because it's the cool factor.
"They're the classic tech start-up. They're cool young guys who had a great idea.
"Most importantly, I think what the UK sites have missed a trick with is that Kickstarter is very strict on what they accept."
The UK government has backed alternative funding models, saying that it is important small businesses have access to finance sources beyond "conventional bank lending".
A spokesman for the Department for Business, Innovation and Skills said: "The Government is working with industry to support a range of new ways of lending, and the growth of innovative financing models like crowd funding is an exciting development."