Hurricane Sandy tracked by Google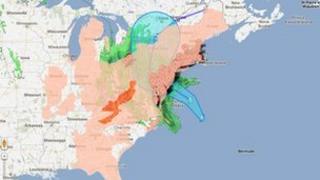 Google has launched interactive maps to track the path of Hurricane Sandy and provide localised support information as it approaches the US east coast.
A New York map includes the locations of evacuation centres and emergency shelters set up by the Red Cross.
The tech giant also cancelled an event today at which it planned to launch the Nexus 4 smartphone and a new version of its Jelly Bean operating system.
It was due to take place on a pier which is now in an evacuation zone.
The "crisis maps" are using data from the US Naval Research Laboratory, the National Hurricane Center, US weather website weather.com and the US Geological Survey.
"The Google crisis response team has assembled a Hurricane Sandy map to help you track the storm's progress and provide updated emergency information," wrote Google software engineer Ka-Ping Yee on the firm's blog.
"We hope that you get the information you need to make preparations and stay safe if you are in the area."
"We will let you know our plans as soon as we know more," Google's Android team said in a statement announcing the cancellation of the event because of the hurricane.
Facebook has also cancelled two New York-based events due to take place this week - an engineering open-house day planned for Tuesday (30 October) and the announcement of an update to its fledgling "Facebook Gifts" service.
Raju Narisetti, managing editor of the Wall Street Journal, announced on Twitter that the newspaper would remove its online paywall today (29 October).
The organisation usually charges subscribers $4.99 (£3.11) per week for access to its website.
The New York Times disabled its paywall on Sunday afternoon.
Thousands of people are also sharing updates via social networks Twitter and Facebook.
"I've found the most up-to-date information on Facebook and Twitter rather than the more traditional news sites, albeit the Facebook/Twitter accounts of certain news sites in some cases," said Timo Rissanen, assistant professor at Parsons The New School for Design.
"The Consulate General of Finland in New York was doing a sterling job last night providing information on Facebook."