Wi-fi enrolled in US presidential campaigns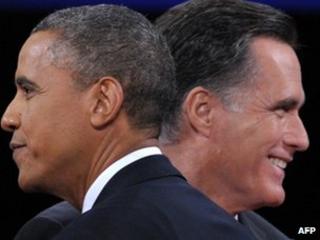 A US start-up company has found a way to use free wi-fi to bolster the US presidential candidates' campaigns.
Hot Spot The Vote has written software that alters what people see when they browse the web via free wi-fi.
Instead of seeing adverts, browsers will see campaign messages from either Mitt Romney or Barack Obama.
This comes soon after a separate study which suggests many Americans are declaring their voting preference by the name of their home wi-fi network.
Hot Spot the Vote is offering its software free to any cafe or business that wants to use it. The software comes in two versions so firms can "Obamify" or Romnify" their wi-fi service depending on their political preference.
It changes some of the settings of a business's wireless router it uses to connect to the web. This makes changes to many of the adverts found on webpages a user visits. The ads will be swapped for campaign information or messages urging people to get out and vote on 6 November.
So far, the software will only swap out ads found on the web pages of Amazon, OkCupid and many other sites. Adverts seen on Facebook pages and lists of results returned after a Google search are not affected by changing the settings.
In May, the Open Signal Maps project published a study which showed how many people were changing the name of their home wi-fi network to reflect their political allegiances.
It said the data it gathered was "chaotic" but showed a very slight positive sentiment towards Barack Obama.