Nintendo's Wii U games console will be sold at a loss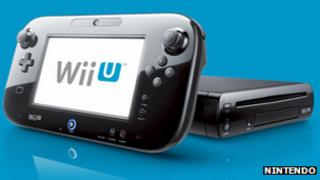 Nintendo has confirmed that it will lose money on every sale of its Wii U console at launch.
The Japanese firm's president revealed the news after the firm cut its profit forecast.
"We had to book a loss on the hardware, which is currently in production and will be sold below cost," said Satoru Iwata.
The firm might ultimately make money through add-on sales and by cutting its manufacturing costs at a later stage.
It marks a change in the company's business strategy.
Ahead of the launch of the original Wii console in 2006 Nintendo's US boss, Reggie Fils-Aime, told Reuters: "We will make a profit on the entire Wii proposition out of the box - hardware and software... That really is a very different philosophy versus our competitors."
Sell now, profit later
The decision to abandon the prospect of immediate profits in order to maximise later earnings is part of a growing trend in the tech world.
Researchers at IHS iSuppli estimated that Sony lost $300 (£186) on every 20GB model of its original PlayStation 3 console in 2007. Although the company never confirmed the figure, it did acknowledge that it was not until 2010 that the machine became profitable.
Microsoft pursued a similar strategy with its Xbox 360.
More recently Amazon's chief executive Jeff Bezos revealed to the BBC that it sold its new Kindle tablets and e-readers at break-even prices.
IHS iSuppli has also suggested that Google is selling the 8GB Asus-made Nexus 7 tablet for the same price it costs to manufacture, ship and advertise the machine.
Troubled by tablets
Nintendo might have altered course to take advantage of the fact that neither Microsoft nor Sony have announced their next-generation consoles yet.
Its pursuit of the more casual gamer means it has also had to take account of the keenly priced tablet market which attracts a similar consumer.
In addition to taking a cut of software sales, the firm might also benefit from users' desire to buy add-on hardware.
The cheapest model of the Wii U will be sold for about £250 in the UK when it launches at the end of the month, but only includes one of its new touchscreen GamePad controllers.
If users want a second GamePad they face paying more. A standalone controller costs more than £100 in Japan, but is not available for pre-order elsewhere yet.
"Nintendo's move is an acknowledgement of a wider reality that smartphones, tablets, connected televisions and other non-dedicated devices now offer excellent game playing experiences," Ed Barton, director of digital media at Strategy Analytics, told the BBC.
"There simply wasn't the level of competition in terms of hardware last time round, and on the new devices you can now buy games at a fraction of what a top-end Wii U console game will cost."
One silver lining in Nintendo's earnings update was news that its handheld Nintendo 3DS console had become profitable.
However, investors remain concerned that the firm posted its first ever annual loss in April and has predicted it would only make a net profit of 6 billion yen ($75m; £47m) in its current business year.