EE announces its 4G price plans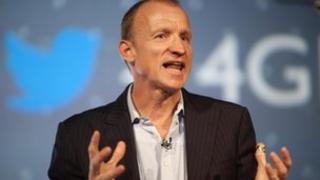 Mobile operator EE has announced the prices for its 4G service, the first of its kind to be commercially available in the UK.
The firm's cheapest contract will be £36 per month with no limit on domestic calls and texts.
However, customers on this plan will only have a data allowance of 500MB, at which point net access is stopped unless a data add-on is bought.
The 4G service will launch on 30 October.
Compared to uses on the slower 3G network, data usage on 4G is expected to be high - potentially leading to increased costs for users who wish to download a lot of data-intensive content such as audio or video.
The announcement follows a frustrating wait for UK consumers who have been unable use 4G capabilities thanks to repeated delays and legal wranglings over the next-gen network's roll out.
An auction, due to take place early next year, will allocate newly-available spectrum space to other operators looking to offer 4G to their customers.
However, those operators were said to be angry at EE's 4G headstart, with O2 and Vodafone only recently agreeing not to take legal action over the matter.
'Months of research'
Until today, EE had remained tight-lipped over how it planned to charge customers to use its new service.
Industry observers saw it as a critical announcement if EE was to pull customers away from the other networks - particularly iPhone users.
EE - which until recently was known as Everything Everywhere - told the BBC that it was confident in its pricing.
"We really think we've priced it at the sweet spot," chief executive Olaf Swantee told BBC technology correspondent Rory Cellan-Jones.
"It's all based on months of consumer research."
The top tariff for standard customers will cost £56 per month, and has a data allowance of 8GB.
EE, keen to demonstrate added remote working capabilities, is making a special effort to tempt small businesses with 1GB data allowances on contracts of £35 per month.
Alongside 4G, EE has also launched an on-demand service in which customers can access content directly using 4G but without impacting on their data allowance.