Tech City gets top boss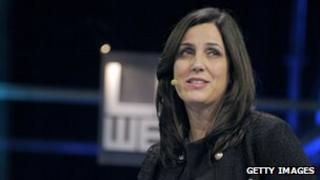 Make no mistake - the appointment of Joanna Shields as the new boss of London's Tech City cluster is a big coup for No 10. Getting one of Europe's most high profile technology leaders to take on what has been a relatively low profile job should do wonders for the image of London as a hot place for hi-tech.
Ms Shields is the European boss of Facebook, and has overseen a big expansion of the business since arriving in 2010. Prior to that, she was chief executive of another social network Bebo, where she helped to pull off one of the best deals in web history, selling the company to AOL for $850m - only for the buyer to sell it on for $10 a couple of years later.
Her CV also includes a major role in Europe for Google, so she is very well plugged into the major Silicon Valley powerhouses and should be able to make the big venture capital firms sit up and take notice when she promotes London.
And there is quite a job to be done. Joanna Shields is already talking bravely of making the capital the next Silicon Valley. But, for all the buzz that has been created around Tech City, the whole venture's main product so far has been PR rather than new profitable businesses - lots of funky Shoreditch events, few signs yet of any billion dollar tech titans.
The prime minister said he was delighted about the appointment, and Tech City's success showed what could happen "when we back some of our most innovative and aspiring companies." Other UK technology clusters - Cambridge, Manchester, the Thames Valley - may ask why London is getting so much attention from the government when they are home to far more successful and innovative technology companies.
But what does Ms Shields' move say about her current employer, Facebook? She certainly isn't moving to Tech City for the money. Her salary will be £115,000, with a £25,000 bonus for hitting certain targets. I can't imagine that comes close to what she has been earning at Facebook, and of course there will be no share options in the new job.
Mind you, with the shares tanking since the IPO, the financial attractions of a job at the social network aren't what they were - and anyone who had options a couple of years ago will have probably made enough not to have to worry ever again about money.
Now I'm sure that Joanna Shields is relishing the challenge of her new job as a standard-bearer for British technology firms. But it must be easier to leave Facebook now than it was just a few months ago when the social network was the hottest, fastest growing, most exciting company on the planet. And if more of its top talent decides that there are now more interesting challenges elsewhere, that could be a big problem.
One other thing. This is a taxpayer funded job, subject to the Nolan rules on public appointments. So why did the government choose to leak the announcement to the Sunday Telegraph on Saturday evening? Just asking...