Uganda police chief urges increased social media policing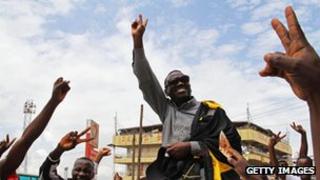 Ugandan police are to increase social-media monitoring because of fears about the spread of "dangerous" information, according to reports.
The country's highest ranking police officer spoke at a gathering of East African police chiefs.
Gen Kale Kayihura called on forces to ensure social media "is not misused for crime, worse still for terrorism".
It comes as opposition supporters in Uganda are increasingly using social media to communicate.
"Social media is a good thing, but can also be a bad thing because it is so quick in terms of dissemination of information," Gen Kayihura said, according to the Ugandan Observer.
He was addressing a gathering of police chiefs from across East Africa, with delegates from Tanzania, Sudan, South Sudan, Somalia, Seychelles, Burundi, Kenya, Rwanda, Ethiopia, Eritrea and Djibouti.
"If it's good information that is nice," he is reported as saying, "but if it's dangerous information like genocide information… somebody tells lies like, you remember, the Kayunga riots, then you know how much damage it can do."
In 2009, 21 people died following violence in the Ugandan town of Kayunga over a dispute surrounding a controversial planned visit from a traditional king.
Egypt-style uprisings
Last year, political demonstrations resulted in minor disorder and multiple arrests.
A walk-to-work protest was prompted by opposition leader Kizza Besigye - who had earlier called for Egypt-style uprisings.
"At the peak of the walk-to-work campaign last year, social media was just starting to be used," said Ignatius Bahizi, a BBC reporter based in Uganda.
"But because not very many people at the time were using it, it did not have much effect.
"The sorts of people who used social media are the types of people you might categorise as middle-class or people who are working and can access internet at any time."
However, more recently, young people were beginning to use social media to discuss political issues - drawing parallels with social media use during the Arab Spring, in which sites like Facebook were seen as a key catalyst for mobilising groups of protesters.
"There is a lot of youth this time around who have finished school and are jobless," added Mr Bahizi, "and who are now users of social media to some extent so that the fear [from the police] might be there."
Gen Kayihura's comments hinted at the police force's nervousness over similar gatherings in Uganda.
"This is something we have to think about," he said, "these opportunists taking advantage of unemployed youth to use them against the stability of the country."