OnLive's video gaming tech was sold for less than $5m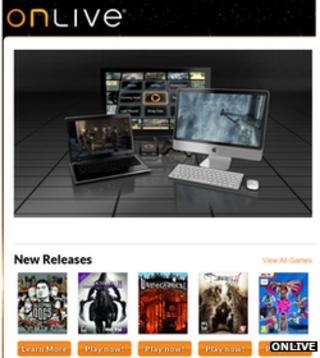 Cloud video gaming service OnLive was sold to a venture capital group for just $4.8m (£3m), it has emerged.
The sale - which also involved many of the company's workers losing their jobs, and investors writing off their stakes - took place in August.
Analysts had previously discussed the business being worth as much as $1.8bn. Its rival, Gaikai, was sold to Sony for $380m in July.
Creditors were told efforts to secure a higher price might have backfired.
Mercury News revealed the details after obtaining a letter from the firm handling OnLive's bankruptcy-like process.
"Had the sale to the buyer not taken place, the assignee would have been left with inadequate capital to fund the significant costs to preserve and market OnLive's patents and other intellectual property, thus greatly reducing expected recoveries essentially to those of a forced piecemeal auction," wrote Joel Weinberg, president of Insolvency Services Group (ISG).
Gaming's future?
OnLive allows users to play "premium" games over the internet, without the need for a console.
Remote servers run the software and stream video footage to users, who play the game using an OnLive gamespad on a computer, smartphone or television - in the latter's case with the aid of a special adapter.
Many gaming industry insiders have predicted subscribing to a cloud gaming package could ultimately become more popular than buying a dedicated games machine.
However, to date it has had limited appeal. OnLive has said it had 1.5 million "active users" at the time of the sale - although reports suggest that only about 1,600 subscribers were using the service at any one time.
Even so, the unexpected sale of the firm to Silicon Valley-based venture capital group Lauder Partners caused controversy when it was announced.
Workers were told that they had lost their rights to stock in the company, while investors who had spent tens of millions of dollars buying a stake in the business were told they would only be compensated if money was left over from the deal once debts had been covered.
ISG's letter reveals that the original OnLive company owed about $18.8m, meaning there is unlikely to be any pay-out to shareholders, who include UK broadband provider BT, Taiwanese smartphone maker HTC, US media group Time Warner and the US telecoms group AT&T.
One industry analyst told the BBC he had thought OnLive's assets had been worth more.
"Apparently OnLive's patent portfolio is relatively strong around the technologies used to provide a streaming games service, so I'm surprised it couldn't get more for those," said Ed Barton, director of digital media at Strategy Analytics.
"But the sum is a reflection of the absolutely dire negotiating position it was in when it made the sale."
OnLive's founder, Steve Perlman, left the firm shortly after the deal. However, Lauder Partners continues to offer the service in the US, UK and Belgium.