US judge orders piracy trial to test IP evidence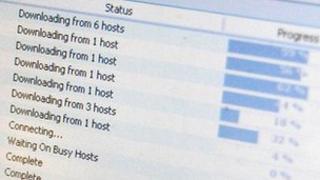 A landmark case in the US will test whether internet piracy claims made by copyright firms will stand up in court.
Such cases rely on identifying the IP address of machines from which content was illegally downloaded as evidence of wrongdoing.
Experts have questioned whether the IP address is sufficient evidence because it identifies an internet connection rather than an individual.
An adult film studio must take cases to court, a judge has ruled.
Malibu Media has instigated 349 mass lawsuits, 43 in Pennsylvania this year.
Most of the cases are settled out of court.
In one lawsuit, five of the anonymous defendants protested when their internet service providers were ordered to reveal their identities.
In a motion filed to the court they accuse Malibu Media of pursuing the cases "to extort settlements".
Judge Michael Baylson, of the Pennsylvania District Court, summarised their issues: "Among other things, the declaration asserts that the BitTorrent software does not work in the manner plaintiff alleges, and that a mere subscriber to an ISP is not necessarily a copyright infringer, with explanations as to how computer-based technology would allow non-subscribers to access a particular IP address."
He went on: "In other words... there is no reason to assume an ISP subscriber is the same person who may be using BitTorrent to download the alleged copyrighter material."
Because of these doubts, he said that a trial was needed "to decide who's right".
Because an IP address is assigned to a connection rather than a device it is often unclear who is using it. It is also possible, if a householder has not secured his or her wi-fi connection, for a neighbour or passerby to use it.
The TorrentFreak news site, which first reported the news, said: "Without a doubt, the trial is expected to set an important precedent."
Disrepute
Increasingly copyright holders in the US have begun mass lawsuits against thousands of individuals accusing them of illegally downloading copyrighted material via file-sharing service BitTorrent.
By studying BitTorrent sites the copyright owners gather IP addresses linked to illegal files. Via court orders they force ISPs to reveal the identities of the owners of the computers.
The UK faced a similar case in 2011 when solicitor Andrew Crossley brought a trial against a group of alleged illegal downloaders.
The use of IP evidence was raised but the focus of the case became the way ACS Law had conducted itself, described by the judge as "amateurish and slipshod".
Judge Colin Birss QC accused Mr Crossley of bringing the "legal profession into disrepute" and the case was dismissed.
Currently, UK-based Ben Dover Productions is pursing claims against 2,845 O2 customers accused of illegally downloading pornographic films.