Rural broadband gets green light from Europe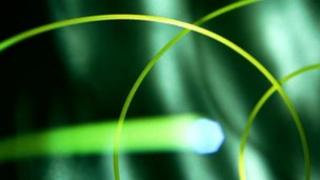 The UK's rural rollout of fast broadband has been given a boost as the EU competition commissioner approved the state-funded scheme.
There have been concerns that the effort could break EU competition rules because all bids so far had been won by BT.
Councils cannot begin projects until full EU approval is given.
That is now expected to happen soon.
In bed
"It is our understanding that the commission is on track to issue its final decision in late October or early November, which will allow projects to get under way," said a Department for Culture Media and Sport (DCMS) spokesman.
The government has set aside £530m to ensure that rural areas do not miss out on the faster networks that are being installed in towns and cities.
BDUK, the body set up to oversee the process, has been criticised for slow progress. To date, just five contracts with councils have been signed - in North Yorkshire, Wales, Rutland, Lancashire and Surrey. Separate schemes operate in Northern Ireland and Scotland.
When BDUK made money available to councils, it was hoped that lots of companies would bid for a share of the money.
But only a handful of players, including Fujitsu and BT, entered the process. Later Fujitsu and others withdrew, leaving BT as the sole bidder in most areas.
"Fujitsu don't get out of bed for less than one million households and we only have half a million," a Cumbria County Council spokeswoman told the BBC.
'Ludicrous'
Cumbria became the first UK council to reject bids from both BT and Fujitsu. A spokeswoman told the BBC that BT's resubmitted bid had now been accepted.
She was unable to say whether BT offered to complete the project for less money, saying only that its bid was now "satisfactory".
Last week BT was accused of inflating its prices when a document compiled by a consultant working for the DCMS was leaked to local authorities and subsequently detailed on a blog.
According to the Br0ken Teleph0n3 site, the document showed that BT was increasingly charging more for rural broadband cabinets.
BT strenuously denied the accusation, saying it was "ludicrous that some people are suggesting that we are trying to pass on the full cost of deployment to our public sector partners".
"BT is winning BDUK tenders precisely because it is committing extra funds to improve broadband access in those counties. These funds are in addition to our commercial investment of £2.5bn," a BT spokesman told the BBC.
The row has led critics of the process to call for more transparency in how bids are put together.
"The ability to negotiate individually with the various local authorities does mean that BT can adjust costs, the question no-one can answer without months of analysis and access to material not in the public domain is whether the cost variations are justified," said Andrew Ferguson, editor of broadband news site ThinkBroadband.