Telefonica hopes 'big data' arm will revive fortunes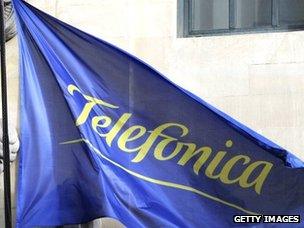 Telefonica, the Spanish mobile phone operator and owner of O2, is launching a new division to sell information about its customers.
Telefonica Digital Insights will offer companies and public sector bodies "analytical insights" based on users' anonymised location data.
It hopes that exploiting such "big data" will help revive its flagging fortunes after falling sales.
But doubts remain about how accurate and useful such insights will be.
The division's first product, Smart Steps, will provide retailers and other bodies with location "heat maps" of mobile phone users' movements throughout the day.
"Using our aggregated and anonymised mobile phone mast data we can provide retailers with a digital headcount to help them understand the movement of crowds," a spokesperson told the BBC.
"Retailers are quite good at measuring footfall inside their stores, but this data will tell them where people go once they are outside, as well as their age and gender."
Retailers already buy footfall data from specialised companies, such as Springboard and Experian, so it remains unclear how Telefonica will add value to existing services.
Richard Dodd, spokesman for the British Retail Consortium, told the BBC: "A teenage fashion chain might find it useful to know when and where teenage girls tend to congregate around town.
"So this kind of granular data could prove a useful addition to the existing footfall data, providing it is accurate."
Location data based on triangulation of mobile phone mast signals is not particularly accurate, as the Telefonica spokesman says: "It's not particularly sophisticated at the moment - we're talking about a grid of a few hundred metres, rather than pinpoint accuracy - but we're hoping to become more accurate over time."
So a retailer will not be able to tell if people are congregating outside their own shop or that of a rival's next door.
But mapping mobile phone users' general movements could help retailers make strategic decisions on store location and opening times, the company believes, and help town councils plan car parking facilities and manage public events.
"Big data is one of the key building blocks of the digital economy," said Stephen Shurrock, chief commercial officer at Telefonica Digital.
"Approached in a smart and responsible way it has the potential to transform every part of business and society - providing economic growth and improving people's lives."
Telefonica Digital Insights has teamed up with market research company GFK to help it develop products in the UK, Brazil and Germany to begin with.
However, Telefonica, which has about 23 million UK customers and 311 million worldwide, will not allow people to opt out of the service should they want to.
"There's no disclosure of personal information at all," the spokesman said, defending the decision.
"This is not about analysing surfing behaviour; the anonymisation and aggregation process protects privacy."
A spokesperson for the Information Commissioner's Office, which polices the Data Protection Act, told the BBC: "So long as individual's personal information cannot be identified from this service, we don't have any problem with it."
Telefonica has been suffering recently from the recession in its home market where sales and profits have been falling.
Credit ratings agency Standard and Poor's downgraded the company's creditworthiness in May.
Related Internet Links
The BBC is not responsible for the content of external sites.