Sony halts new Xperia tablet sales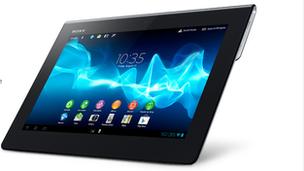 Sony has halted sales of Xperia, its new tablet computer, after discovering that the device may not be water resistant as advertised.
The Xperia tablet was unveiled in August 2012 in Berlin and has been marketed as a "splash-proof" tablet.
It has been on sale for just under a month and about 100,000 have been shipped, Sony said.
The company says it will repair any damaged devices and a spokesperson said a manufacturing flaw was to blame.
There is no date at the moment for sales to recommence, Sony spokeswoman Noriko Shoji told Reuters news agency.
"You have to give them credit for saying, 'We realise some aren't as water resistant as we want them to be so we'll happily fix or replace them'," said Stuart Miles, editor of gadget review site Pocket-Lint.
"But at the same time it is embarrassing that you create a tablet that's supposed to be usable in tough environments, and it's not."
The splash-proof quality is particularly important in the Japanese market, he added.
"Most people don't worry about waterproofing. But far more Japanese companies create water resistant devices - more so than in the UK or the US. It's obviously a big selling point for them - not many tablets promote waterproofing."
Related Internet Links
The BBC is not responsible for the content of external sites.