Samsung challenges Apple's $1bn patent award verdict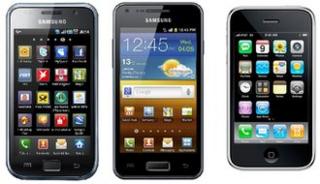 Samsung has called for a retrial of a recent patent dispute case, claiming the jury foreman had "failed to answer [questions] truthfully" and might have been biased.
A California court awarded Apple $1.05bn (£652m) in damages, after ruling several of its software and design technologies had been infringed.
Samsung has also alleged that several of the judge's decisions were "unfair".
Apple is seeking to increase the size of the award by about $700m.
The South Korean firm's accusations were made in paperwork filed on 21 September that had been sealed until now.
Work history
Samsung said foreman Velvin Hogan had provided an incomplete answer during jury selection.
It said he had revealed he had been involved in a single previous lawsuit, but had failed to disclose two others.
It noted that Mr Hogan had been sued by his former employer - hard disk maker Seagate - for breach of contract, and had subsequently filed for personal bankruptcy.
Samsung's filing highlights that it is the biggest direct shareholder in Seagate, following a $1.4bn deal in 2011.
"Mr Hogan's failure to disclose the Seagate suit raises issues of bias that Samsung should have been allowed to explore in questioning," its lawyers wrote.
Mr Hogan did mention that he had worked for Seagate in court. When questioned about the issue by Reuters, he added that he had never been asked to list every lawsuit he had been involved in.
'Sending a message'
The filing goes on to suggest Mr Hogan had overstepped the mark during the jury's deliberations.
It said several pieces of advice he had given had been "incorrect and extraneous legal standards [that] had no place in the jury room".
In addition the Galaxy-device maker took issue with post-verdict interviews Mr Hogan gave, in which he said he wanted "to send a message to the industry at large that patent infringing is not the right thing to do" and "make sure the message we sent was not just a slap on the wrist".
It highlighted the fact Mr Hogan had previously remained silent when asked if he had had strong feelings about intellectual property laws.
When the BBC questioned Mr Hogan about his comments, in August, he acknowledged that jurors had wanted to "send a message" to discourage wilful patent infringement, but added "it wasn't necessarily focused at Samsung - that is where it had been taken out of context".
Courtroom limitations
Samsung also alleges that a new trial should be granted because the time, witness and exhibit restrictions imposed by Judge Lucy Koh were unfair.
"The constraints... were unprecedented for a patent case of this complexity and magnitude, and prevented Samsung from presenting a full and fair case in response to Apple's many claims," its lawyer wrote.
Judge Koh also imposed limits on Apple during the case, notably rebuffing its lawyer's attempt to submit a long list of potential rebuttal witnesses saying: "Unless you're smoking crack, you know these witnesses aren't going to be called."
Apple declined to comment on Samsung's filing.
Its lawyers have called on the judge to increase damages to about $1.75bn on the grounds that the jury found Samsung's infringements of its patents to have been a "wilful" act.
It is also wants the judge to impose a sales ban on several of Samsung's handsets and tablets.
Both sides' claims will be considered at a hearing on 6 December.