Nook tablets join Barnes & Noble's UK line-up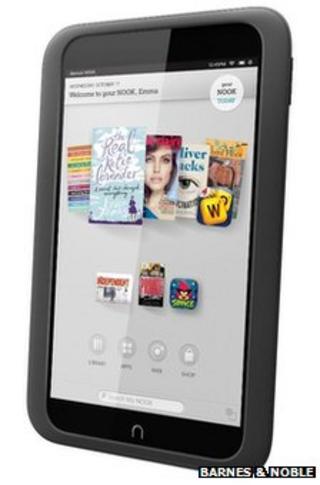 US book chain Barnes & Noble plans to launch new Nook tablets alongside its e-readers in the UK later this year.
They will compete against products from Amazon, Kobo, Sony and others.
B&N boasts that its smaller tablet - which features a 7in (17.8cm) screen - is the lightest such device to offer a "high definition" experience.
The firm has secured distribution deals with some of the country's leading retailers, but may suffer because its brand is less well known.
While B&N and Amazon have decided to enter the UK's tablet market at the same time, they are pursuing different strategies: the former has decided to offer its full line-up from the start, while the latter is selling a more limited range.
So, while B&N will offer a 9in (22.9cm) tablet called the Nook HD+ in the UK from mid-November, Amazon has opted to limit sales of its 8.9in Kindle Fire HD to the US for the time being.
This may help B&N make inroads into the larger-screened tablet market - the Nook HD+ is £100 cheaper than Apple's 9.7in iPad 2, and £70 below Samsung's 10.1in Galaxy Tab2.
Competition is likely to be more fierce in the 7in category where the basic £159 Nook HD, featuring 8GB of storage, will compete against similarly priced offerings from Amazon, Kobo and Elonex as well as Asus's Google-branded Nexus 7 tablet.
Curated stores
The Nook tablets run on an adapted version of Android 4.0, giving them access to an existing wide range of third-party software.
B&N is also offering its own curated magazine, newspaper, book and app stores - and plans to add a video service offering movies and television shows by early 2013.
These facilities can also be used on other devices allowing users to share material from the tablets to smartphones and PCs.
The decision to restrict which apps can be sold provides the firm with an opportunity to limit malware. However, some owners might be frustrated by the fact they are not offered an opportunity to install material from either the Google Play or Amazon Appstore marketplaces unless they hack the machines.
The Nook tablets do not display adverts, unlike the Kindle Fire which shows "special offers" when put into lock mode.
Distribution deals
The tablets build on B&N's earlier announcement that it would sell its full range of black-and-white-screened e-book readers in the UK from early-October.
These will include a Simple Touch model featuring a built-in light, allowing it to be used in the dark.
While Amazon has announced a device with a similar feature for US shoppers - the Kindle Paperwhite - it has not put the model on sale in the UK. However, Kobo does offer the facility with its new e-reader, the Kobo Glo.
With a flood of new devices coming onto the market, the various companies' fortunes may be determined by their High Street distribution deals.
While B&N does not operate its own stores in the UK, it will sell its products through Sainsbury's and the bookstore Blackwell's.
Kobo's partners include WH Smith and Asda, while Amazon has teamed up with Waterstones, Comet, Ryman, Carphone Warehouse and Tesco.
John Lewis, Currys, PC World and Argos will sell all three devices as well as other similar products made by Sony, Archos, Delium and others.
"A clearer picture of how the market will be divided up should emerge after this Christmas and the shopping period immediately afterwards," Philip Jones, editor of the Bookseller magazine, told the BBC.
"Barnes & Noble is an unknown brand in the UK so it will have to work harder to get where Kobo and Kindle are.
"But what is still unknown about the tablets on offer is how big the non-iPad market will become, and whether they will appeal to book-readers.
"Although they are being sold through bookstores, the evidence suggests that people don't use tablets to read books to the same extent they do on e-ink devices."