Kim Dotcom: Inquiry ordered into 'unlawful spying'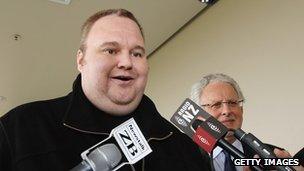 An inquiry has been ordered into whether New Zealand intelligence staff engaged in unlawful spying prior to the arrest of Megaupload owner Kim Dotcom.
The country's Prime Minister John Key said some communications were obtained "without statutory authority".
Mr Dotcom is fighting extradition to the US where he faces accusations of copyright theft on a huge scale.
In June, an NZ court ruled that a search warrant used for a raid on Mr Dotcom's home was illegal.
The court also said that Mr Dotcom should be allowed to see evidence on which his extradition hearing will be based - a decision US authorities have appealed against.
The latest statement from Mr Key will be seen as another blow to the integrity of the US case.
The prime minister asked for an investigation into "circumstances of unlawful interception of communications of certain individuals" working for the Government Communications Security Bureau (GCSB), the country's main intelligence agency.
He added: "I expect our intelligence agencies to operate always within the law. Their operations depend on public trust.
"I look forward to the inspector-general's inquiry getting to the heart of what took place and what can be done about it.
"Because this is also a matter for the High Court in its consideration of the Megaupload litigation, I am unable to comment further."
Mr Dotcom, writing on his Twitter account, backed the inquiry call.
"I welcome the inquiry by @JohnKeyPM into unlawful acts by the GCSB," he wrote. "Please extend the inquiry to cover the entire Crown Law Mega case."
Authorities arrested Mr Dotcom and his colleagues at his country estate in January, confiscating computers and hard drives, works of art and cars.
His website Megaupload - which allowed users to upload and share large files - was also forced to close.
The FBI accuses Mr Dotcom of leading a group of employees responsible for earning more than $175m (£110m) since 2005 by copying and distributing music, films and other copyrighted content without authorisation.
Mr Dotcom - also known as Kim Schmitz - insists his website was merely an online storage facility.
Since his arrest, he has gathered some high-profile support, including Apple co-founder Steve Wozniak.
Despite his ongoing legal battles, Mr Dotcom said a new version of Megaupload, called Megabox, was "90%" complete.
He said "lawyers, partners and investors are ready" to back the site which is expected to launch before the end of the year.