Apple faces new patent fights with Samsung and Google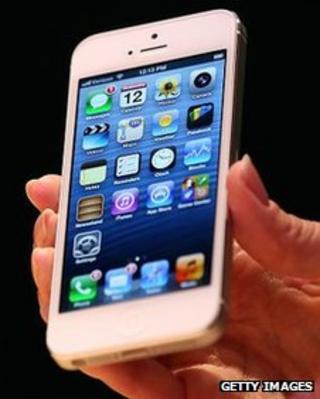 Apple faces becoming embroiled in a further US patent clash after Samsung said it intended to sue the firm over technology in the new iPhone 5.
The announcement followed news that a panel of judges is to follow up a separate complaint by Google which is seeking a far-reaching sales ban against Apple products.
Meanwhile, efforts continue to resolve Apple's earlier victory over Samsung.
Apple is expected to ask the judge to treble a jury's $1.05bn damages award.
A jury in California drew up the figure last month after ruling that the South Korean firm had infringed several of its rival's software and design patents.
Apple now has the right to request that damages are increased since the jury said Samsung's actions had been "wilful".
The Seoul-based firm has indicated that it intends to appeal.
Both Apple and Samsung are due to file paperwork in the case on 21 September.
A hearing had also been scheduled this Thursday to consider Samsung's request that a US sales ban on some of its tablet computers should be dropped.
The judge indicated she would have granted the request, but said that since Samsung had taken its appeal against the ban to a higher court it was no longer in her power to do so.
Neither Samsung nor Apple could confirm at this time whether the hearing would still take place.
iPhone 5 lawsuit
Apple's latest iPhone - due for release on Friday - is set to be the focal point of another lawsuit involving the two firms.
Samsung has filed paperwork with a California court saying it intends to extend complaints made against existing Apple handsets to include the new device. It indicated that it believed at least eight of its US patents had been infringed.
According to consultant Florian Mueller, who reported on the filing on his Foss Patents blog, the case is set to go to trial in March 2014.
A statement from Samsung said: "We have always preferred to compete in the marketplace with our innovative products, rather than in courtrooms.
"However, Apple continues to take aggressive legal measures that will limit market competition. Under these circumstances, we have little choice but to take the steps necessary to protect our innovations and intellectual property rights."
Apple was not able to comment at this time.
Messaging software
Elsewhere, Apple also faces a claim that its iMessage technology involves techniques that should have been licensed from Google's Motorola unit.
The US International Trade Commission (ITC) has voted to investigate the allegation in addition to six other infringement claims.
Apple's iMessage software allows owners of its products to send text and picture notifications to each other as an alternative to SMS or other instant message products.
The software comes installed on new Macintosh computers, iPhones and iPads. Google could enforce sales bans on the products if its claims are upheld.
A statement from the ITC said that it would set the date by which it intended to complete its investigation by the first week of November.
One patent lawyer, who used to act for Apple in Europe, said the amount of litigation the firm was now involved in was a concern.
"From Apple's perspective you reap what you sow," said Andrew Alton, a lawyer at Urquhart-Dykes and Lord.
"It started this by filing lawsuits about patents relating to unique software features, and it now faces allegations that hardware parts of its devices infringe others' technologies - they would be much harder to change if it loses.
"Fighting litigation is always a drain on resources. Apple has a large amount of cash, but you have to ask whether the money would be better spent on R&D than lawyers."