4G talks ongoing to speed up auction process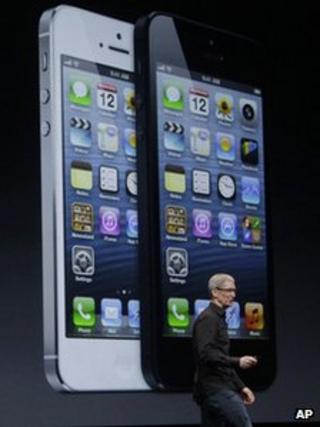 O2 has told BBC News it is "in discussions" to speed up the roll out of its 4G services.
The news comes as it was confirmed the only 4G network on which the new iPhone 5 will work is that of rival EE.
EE is the new 4G brand from Everything Everywhere, the parent group of mobile operators Orange and T-Mobile.
O2 and Vodafone are unhappy EE, which will launch its 4G network imminently, has had a head start. The 4G technology will improve network access speed.
O2's 4G network will launch with a range of LTE-enabled handsets, from Samsung, Nokia and others.
An O2 spokeswoman told the BBC it wanted its 4G network up and running "as quickly as possible".
"We are pushing hard on behalf of our customers," she added.
"We are hopeful we can come to some agreement to bring the current time line forward."
Legal action?
The iPhone 5 is the first of Apple's handsets to support 4G, but it has been optimised for just three spectrum bands - the 1800MHz band, which EE has been allowed to use for 4G services, the 850MHz, which doesn't work in the UK, and the 2.1GHz band, which currently only supports 3G services.
Apple has taken the view the 800MHz and 2.6GHz bands, for which O2 and Vodafone and other operators will be able to bid at auction in spring 2013, are not "developed enough", according to Matthew Howett, an analyst with research firm Ovum.
This could prove a problem for operators around Europe and would be an important differentiator for EE, he said.
O2 and Vodafone could petition Ofcom to allow them to reuse the 3G band for 4G services.
But Mr Howett said: "The 3G band is heavily occupied. Ofcom has said it could take five to 10 years to free up the 3G spectrum for 4G."
An alternative would be to launch legal action to prevent EE from rolling out its 4G network.
No upgrade
But if O2 and Vodafone wanted to persuade Ofcom to speed up the timetable for the auction, launching legal action was unlikely to help their case, said Mr Howett.
3 is the only other UK operator who has the opportunity to launch 4G services that will work with the new iPhone. It recently bought some of Everything Everywhere's 1800MHz spectrum although it is not allowed to launch services until September 2013.
"It may ask Ofcom to allow it to launch earlier," said Mr Howett.
A poll conducted by discount website MyVoucherCode found only a quarter of mobile phone users planned to upgrade to 4G "in the near future".
Most, 52%, said they would not switch until 4G was available on their current network, while 58% of those not interested in buying a 4G handset said it was because they did not think 4G service would be available in their location.
EE has promised 98% outdoor coverage for 4G by 2014. Vodafone told the BBC that by 2015 it aimed to offer 98% indoor coverage.