iPhone 5 - Ofcom's 4G gamble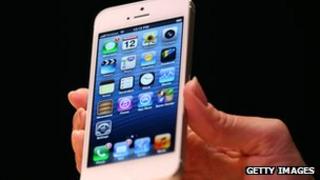 Such has been the build-up, that I suspect you've already heard quite enough about the iPhone 5. So, apart from saying that it looks to me like a respectable upgrade that does enough to satisfy the Apple community, without winning over the larger Android fanbase, let's leave it there. What is more interesting is where it leaves the row over 4G in Britain.
From the moment Apple's Phil Schiller put up a map of the UK with the new EE logo on it, the cat was among the pigeons. He was describing which companies around the world would be able to offer the new iPhone's fast 4G networking, and in Britain that is the owner of Orange and T-Mobile.
Vodafone, O2 and Three will of course be able to sell the new phone - but only EE will be able to market it as a 4G device. What's more, the company's new network should be relatively uncongested in the early days, so that customers will experience an even sharper contrast with the service offered to 3G users.
When Ofcom gave the go-ahead for EE to use its 1800Mhz spectrum to launch 4G early, Vodafone and O2 were furious. They have been mulling a legal challenge to stop it happening, but a temporary ceasefire has been brokered by the government.
That is why we have, as yet, no precise starting date for EE's 4G - although we're told it's coming "in weeks". Meanwhile, Vodafone and O2 are pressing Ofcom to act to shorten the period when one firm will have exclusivity.
They want both the 4G auction and then the freeing up of the 800Mhz and 2600Mhz spectrum to be accelerated. But as far as I can see, there is little wiggle-room. The auction process is due to be completed early in 2013 and then the technical work to make sure the airwaves are clear for use - and there's no interference with radar or digital television - could take the rest of the year.
In summary, it is hard to see EE's 4G monopoly lasting less than a year. "That's unfair!" cry O2 and Vodafone, who stress that their only wish is to see the whole of Britain get 4G as soon as possible. Cynics might argue that they only discovered this urgent need for a 4G nation once their rival had stolen a march on them.
But isn't it unfair to give one company a commercial advantage? Ofcom says it has to balance that concern with the benefit to consumers of getting speedy access to 4G. In its document outlining its reasons for giving the go-ahead to EE, the regulator cites a previous example of one company enjoying a temporary monopoly.
When the first iPhone came out in 2007, O2 had an exclusive deal to sell it for almost two years. Millions of new subscribers came to the network, but once the period of exclusivity was over, the playing field was levelled again, and O2 did not appear to gain a long-term advantage.
The regulator appears to believe that any commercial gain made by EE over the next year will only be temporary - and in any case, the benefit to consumers of kick-starting 4G makes it worth the risk.
So, prepare for a big experiment. Do consumers really want a superfast iPhone 5 enough to switch networks - and will that give EE an unfair advantage? Regulators, operators and some very expensive commercial lawyers will be watching very closely to see what happens next.