Kobo unveils new range of ebook readers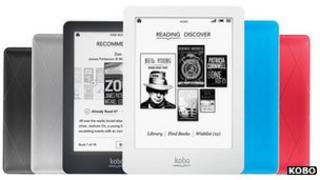 Kobo has unveiled a new range of e-book readers, one of which features a built-in light for use in the dark.
The Kobo Glo's innovation is similar to a feature included in the rival Nook GlowLight, which launches in the UK next month.
Kobo e-readers - made by Japan's Rakuten - have benefited from being sold in a popular high street chain.
But they will shortly face a challenge from other in-store promotions secured by their competitors.
There are three new models in Kobo's revised line-up of devices.
In addition to the Glo model which features a 6in (15.2cm) e-paper screen, the firm has also released the Mini - a cheaper model with a 5in (12.7cm) screen that does not have a light.
The third device is an Android-powered tablet called the Arc. It has a 7in (17.8cm) screen and features an internet browser and multimedia capabilities, but is less suitable for use in the sunlight.
Kobo will continue to offer its existing Touch model giving it a line-up ranging in price from £60 to £190.
Retail rivals
Kobo has been sold at WH Smith stores since last year - a deal the retailer describes as "a long term commitment". In addition Kobo said its latest models would also be available from Asda, Argos and John Lewis, among others, in the UK.
However, the advantage it has enjoyed as the most visible e-reader on the British high street will be undermined by recent moves by Amazon and US chain Barnes and Noble.
Bookseller Waterstones, which has more than 300 stores in the UK, announced a partnership with Amazon in May.
The deal will see about a third of its shops refitted to promote the US firm's Kindle devices, and visitors will also be encouraged to browse the chain's shelves before buying from Amazon's online store.
The Guardian has reported that if customers bought a title using Waterstone's in-store wi-fi the UK group would "get a cut" of the sale. However, a spokesman for the firm told the BBC that the terms of the deal had not been made public.
Waterstones had previously sold Sony e-readers which had received much less promotion.
Barnes and Noble has signed a deal with rival booksellers Foyles and Blackwell's as well as Argos and John Lewis.
"Clearly there is going to be a lot more choice for consumers interested in e-books this Christmas and a lot more retail presence," Benedict Evans, a technology analyst at Enders Analysis told the BBC.
"Kobo has a credible hardware line-up and a pretty good selection of content.
"But for consumers Amazon is likely to be the trusted brand in this sector and has greater public awareness. Kobo may need more hand holding and marketing when it comes to retail sales."