Nokia's bet on Windows Phone 8: Expert opinions
Nokia and Microsoft co-host a press event in New York this Wednesday where they are expected to unveil devices running the new Windows Phone 8 operating system.
Rumours and reported "leaks" suggest there will be two handsets offered in a range of colours, with at least one featuring Nokia's PureView camera technology and "wireless charging" via a separate base.
It is a critical event for both companies.
Nokia's losses are mounting and in April it surrendered its 14-year position as the world's biggest phone-maker to Samsung, according to researchers at Strategy Analytics.
Add that to announcements of 40,000 job cuts, a plan to shift all handset production to Asia, and the acknowledgement that sales of existing Lumia models have been "mixed", and it makes for a rocky start to Stephen Elop's first two years as the firm's chief executive.
Microsoft's finances are in a healthier state but it knows it has yet to crack the smartphone sector.
A recent study by Canalys suggested Windows Phone had only captured about 3% of the global market between April and June.
That compared to Apple iOS's 16% and Google Android's 68%.
Samsung, HTC and Acer have all announced plans to release Windows Phone 8 models.
But Microsoft's decision to co-host this event and the fact that Mr Elop used to work for the firm means that it is heavily invested in Nokia's success.
Ahead of the announcement, the BBC asked four industry watchers for their views of the challenges and potential opportunities facing Nokia.
Gap in the market?
Ben Wood is chief of research at CCS Insight, a technology consultancy specialising in mobile devices. He thinks Nokia and Microsoft face a struggle if they are to make Windows Phone the market's third dominant operating system.
This is the single most important product launch under the stewardship of Nokia's chief executive, Stephen Elop.
It must deliver the vision he set out in the now infamous "burning platform" memo in February 2011, when he abandoned Nokia's in-house operating systems in favour of Microsoft's Windows Phone.
Following four initial Lumia phones, the new products will be the first to truly benefit from collaboration between the two companies.
But, given the majority of potential customers in markets like the UK are already using a smartphone, the big question is whether there is space for a third platform. Nokia will need network operators and retailers to push its products hard to get consumers to make that jump.
Success for Microsoft is just as important. CCS Insight estimates that 700 million smartphones will be shipped in 2012, making them the most prolific computing devices on the planet, outstripping PCs.
This is an opportunity where Microsoft cannot fail. The challenge is further complicated by the perception of Windows as functional software for PCs.
For many people, Windows is far removed from the mass-market smartphone experience, which was first shaped in 2007, when Apple launched its iPhone, wrong-footing traditional phone makers and ultimately contributing to Nokia's woes.
However, software alone will not be enough. Nokia needs to produce world-beating hardware designs that tempt buyers away from rival devices like the iPhone and Samsung's Android-powered Galaxy S3.
Success depends on a complex blend of hardware, software and services. Getting that recipe right has so far eluded many of the biggest names in consumer electronics. Nokia's future will depend on it.
Camera technology
Mat Gallagher is deputy editor of Amateur Photographer. The magazine praised Nokia's first PureView-enabled device last month, but Mr Gallagher warns the technology faces a new threat.
Nokia has a history of leading camera technology in mobile phones.
Its 7610 model, back in 2004, featured the first 1 megapixel camera and the N93, in 2006, had a three-times optical zoom.
The firm has said its latest advancement, the PureView system, offers "a new benchmark in imaging" thanks to the combination of a high-resolution sensor and a technique called oversampling.
This involves combining the data from several of the sensor's pixels to create what Nokia calls a "super-pixel". In the case of the first handset to feature this, the Symbian-based Nokia 808, a 41MP sensor was used to create a higher quality 8MP or smaller file.
The results demonstrated better low-light performance and colour. PureView has been a long time in development but the results are impressive and actually rival some high-end DSLR (digital single-lens reflex) cameras for detail.
This technology, if refined and used on a Windows 8 platform, could put Nokia out in front again.
However, with the Samsung Galaxy and Nikon S800c now using Android operating systems the competition could come from the camera market. These compact cameras feature wi-fi to upload images straight to social networking sites and benefit from physically larger sensor sizes and optics than cameraphones can offer.
For a cameraphone to be really successful, it needs to be effortless.
The process from selecting the camera mode to uploading the image should be as quick and easy as possible, and should deliver a great image in any light at the touch of a button. Anyone wanting to fiddle with creative control is more likely to reach for a proper camera.
Takeover talk
Colin Gillis is technology analyst at BGC Partners, a New York-based financial services company. He dismisses speculation that Nokia's partnership with Microsoft is destined to end with the Finnish firm consumed by its American partner.
As Microsoft pushes to get its fledgling phone ecosystem to grow, we are frequently asked our view on the possibility of a Microsoft acquisition of its major partner Nokia.
While anything is possible, and there is a reasonable argument to be made for such a tie-up, our take is an acquisition is not likely to happen this year for several reasons.
Nokia is already fully committed to building Windows Phones and one can argue that Microsoft is already enjoying the majority of any benefit it would receive from acquiring Nokia.
The recent US ruling for Apple against Samsung on patent violations should serve to renew interest in the Windows Phone platform from other handset vendors. Several Android handset makers already pay a royalty to Microsoft for its intellectual property.
Hardware products from multiple vendors have historically been Microsoft's business model to get traction across market segments. A purchase of Nokia by Microsoft could alienate its other hardware partners, but we do note that Microsoft is getting more aggressive in this area by building its own tablet.
An acquisition is likely to prove costly, take a long time to close, and would be a distraction at a time when Microsoft management is rolling out critical new flagship products such as Windows 8.
Regarding price, we mention that Nokia's current market cap of $10.8bn (£6.8bn) is more than Microsoft's largest acquisition ever - Skype in 2011 for $8.5bn.
We also mention that the 52-week high for Nokia of $7.38 a share is sharply above its current trading price, suggesting a meaningful premium might be required to gain control.
Patent portfolio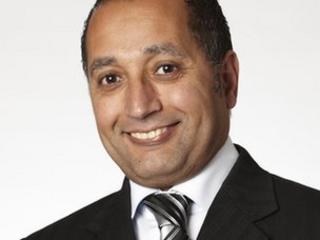 Malik Saadi is principal analyst with Informa Telecoms & Media, a London-based consultancy. He says the weight of Nokia's huge patent library should not be underestimated, especially after a jury said Samsung should pay Apple $1.05bn following a US lawsuit.
The industry is speculating about the 7.7% jump in Nokia's share price on the same day that Apple won its legal case against Samsung for patent infringements.
In fact, there are a number of reasons why Nokia could benefit from the conflict between Apple and Samsung and why Nokia's adoption of Windows Phone as primary platform could finally start to pay off.
First, it appears from the Samsung-Apple hearings that Microsoft has signed a cross-licensing agreement, whereby the two companies agreed not to file any legal suit against each other as long as the designs of iPhone and Windows Phone devices could be differentiated.
Nokia benefits directly from this agreement as a privileged partner of Microsoft.
Second, Nokia could benefit from the recent change in Microsoft's Windows 8 strategy.
Microsoft is aiming to promote the unified Tiles-based user experience enabled by Windows 8 across all devices, from PCs to smartphones. Practically speaking, this is the first time Microsoft's mobile division will benefit equally from the corporate marketing budget, which will greatly benefit Nokia, and all the supporters of Windows Phone 8.
Third, Nokia has a rich intellectual property portfolio - it has more than 12,000 patents distributed across all the key technology sectors, including wireless communications, terminal software, imaging, navigation, hardware and services.
Informa believes Nokia's patent portfolio is the most balanced across all industry sectors and it will enable Nokia to lead innovation in the converged world as well as making it more immune to legal attacks by its rivals in the industry.