Adobe Flash Player returns to Android store in UK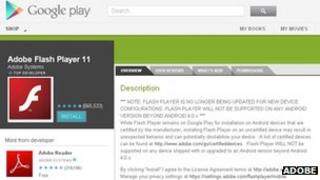 Adobe has overturned a decision to remove its Flash media player from Google's Android app store.
In early August, Adobe said its Flash Player plug-in for Android was being removed because development of the code had been halted.
However, pressure from UK "strategic partners" have made Adobe make the Flash Player available again.
The plug-in is only available via Google Play UK and would be removed again "soon", said Adobe.
"Flash Player continues to be available on Google Play for users in the UK for a short while due to requests from strategic partners," said a spokesperson for Adobe.
The BBC was one of the strategic partners that asked Adobe to delay removal. Flash is the technology underpinning the BBC's iPlayer application.
The BBC declined to comment on whether it had any involvement in Adobe's decision.
The BBC is known to be working with Adobe on an alternative video player that will make TV shows available on mobiles.
No date has been set for when Flash will be removed from Google Play. Before its removal the plug-in was one of the most popular program on the Play store.
Adobe's Flash is widely used on websites to help them display multi-media content such as videos, animations and sounds.
Adobe has put a disclaimer on the Google Play page through which the Player can be downloaded on to an Android device warning that the software was no longer being updated.
The warning said the Flash Player was only certified as working with Android version 4.0.x.
This means it will not work with the latest version of the mobile operating system version 4.1 which is also known as Jelly Bean.