Windows 8 spurs new touchscreen hybrid PC designs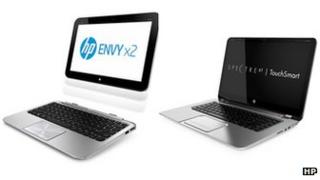 PC-makers are showing off a range of new computers aimed at convincing users to upgrade after Windows 8 is released.
Microsoft's operating system features a touchscreen interface prompting manufacturers to restyle their laptops.
HP, Toshiba, Dell, Asus and Lenovo are among those showing off new products.
Efforts are split between models in which keyboards detach from screens, ones in which the keys remain attached but can be hidden behind displays, and traditional fixed clamshell designs.
The hybrid tablet/laptop concept had been championed by Intel at the Consumer Electronics Show earlier this year.
Apple - which makes the bestselling tablet on the market - later suggested that mixing the different types of computer together risked a situation in which "you wind up compromising in both and not pleasing either user".
But some analysts say Windows 8 is specifically designed to work in both modes, so the designs may make sense. The operating system has been scheduled for release on 26 October.
Magnetic dock
Hewlett-Packard, the world's largest tech company by sales, has shown off three new models in San Francisco.
Its most portable device - the HP Envy x2 - has opted for a design in which its 11in (27.9cm) screen can attach to a keyboard dock, using magnets to guide both parts into place.
The model distinguishes itself from earlier designs by featuring an 8 megapixel camera on the back of the screen allowing it to be used as a camera and the inclusion of NFC (near field communication) technology to allow users to easily share photos, contacts and other content with each other.
HP's two other models both feature touchscreens built into a traditional laptop design.
By contrast Toshiba's Satellite U925t features a screen that can slide over its keyboard. The computer - which was unveiled at the IFA trade show in Berlin - features a bigger 12.5in (31.8cm) display than has been traditional with this format.
Screens that swivel
Dell's XPS Duo 12 takes another approach, allowing its screen to pivot around its bezel. Once the user has spun it around the laptop can be closed leaving the display face-up, ready for use.
Dell also announced the XPS 10 tablet - which is powered by an ARM-based processor rather than the x86 design used in Intel's products.
This will run Windows RT - Microsoft's first PC system to support ARM's chip architecture. Dell's model is paired with a detachable keyboard dock.
The idea of using a detachable keyboard had been popularised by Asus' Transformer series of Android computers.
The Taiwanese company has now shown off two models running Windows 8 using the Vivo Tab brand: one running Windows RT, and a slightly bigger version running the full system.
Twist and flip
Lenovo bucked the trend at IFA releasing three laptops with regular screens that do not accept touch input.
A spokeswoman for the Chinese firm said it believed there would still be a market for such devices after Window 8 became available.
But she highlighted the fact that the firm also planned to formally launch the Ideapad Yoga at a later point.
The hybrid PC uses a hinge to swivel its screen around so that it can be flipped up flat against the back of the keyboard, or part-folded so that it can prop itself up on table.
"Windows 8 is a tipping point," said David McQueen, principal analyst at the tech consultancy Informa.
"Microsoft has already shown off its Surface design - which looks great with its keyboard that doubles as a cover - and we're now seeing other approaches in which manufacturers are trying to make the machines suitable for both productivity and fun.
"At the moment the firms seems to be throwing lots out and waiting to see what sticks. It will be interesting to see how much product refresh there is - if people buy one model and then want to switch to another design for a different experience, and how quickly they do that.2