Motorola's Intel phone set for September launch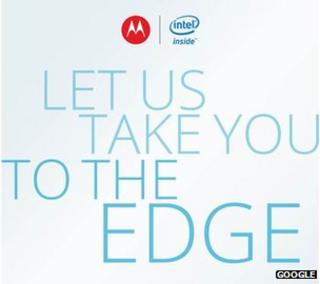 Google's Motorola unit has confirmed plans to release its first smartphone powered by an Intel chip.
The firm will unveil the device in London on 18 September.
Intel chips are already used in phones made by Lava, Lenovo and Gigabyte. But the news marks a significant step in efforts by Google, which also makes the bestselling Android system, to crack the smartphone market.
The unveiling follows a string of announcements from other tech firms.
Earlier this week LG announced its new top-end model, the Optimus G.
The South Korean firm was the first company to show off a prototype handset powered by an Intel chip, but it never released the model.
Its latest device is instead the first to feature Qualcomm's new Snapdragon S4 Pro processor, which promises improved performance and better battery life over previous versions.
LG's new handset also features a 13-megapixel camera, but is only being released in South Korea and Japan at this time.
Looking ahead, the coming month includes a separate US launch by Motorola as well as separate announcements by Amazon, Apple, Nokia, Samsung and Nintendo.
Chip wars
Intel first announced its partnership with Google at the Consumer Electronics Show in Las Vegas in January.
Analysts said the effort could prove critical to the chip-maker's prospects because of the fast growth of the smartphone and tablet markets compared with the PC sector.
Intel itself has described smartphone chips as "a big part of the company's future".
But it told the BBC its efforts would not be solely focused on trying to offer faster processors.
"Faster speeds only get you so far," Mike Bell, Intel's vice president for mobile, told the BBC.
"It's really all about user experience and the responsiveness of the device and less about speeds and feeds.
"What we are trying to do is work out what the next user experience should be on these hand-held devices and then work backwards to build into the silicon the hooks we need to create that experience, because it's software and hardware that do it, not just one or the other."
One tech analyst said the move could have significant ramifications for the wider market in Android devices.
"This is still new territory for Intel, but is a natural progression given that PC sales are slowing and it needs to find new outlets for its semiconductor technology," said Chris Green, principal technology analyst at Davies Murphy Group.
"The advances it has made at trying to get power consumption down means that for the first time its products are viable in mobile phones.
"But the potential risk for Android is that you could see some developers release apps that run on Intel chips but not other ones which could lead to further fragmentation of the platform."