OnLive's founder leaves cloud video games service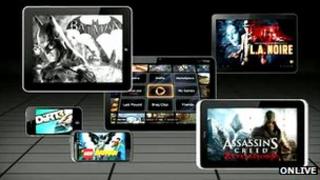 The founder of OnLive - the cloud-based video games service - has left the firm, after organising a controversial rescue of the business.
A statement said Steve Perlman had stepped down as chief executive "to work on his myriad of other projects".
The news comes just over a week after he sold the firm's assets to a venture capital firm, wiping out its investors' stakes and its staff's share rights.
The new owner had previously said Mr Perlman would remain in his post.
The founder was not given redundancy pay and was not required to sign a non-disclosure agreement.
Silicon Valley-based Lauder Partners bought OnLive's technology, trademarks and patents after Mr Perlman used a technique known as "assignment for the benefit of creditors" as an alternative to bankruptcy.
Under the terms of the arrangement, cash raised is used to pay off the original company's lenders.
Last week the Insolvency Services Group - a business involved in the process - said that OnLive had owed between $30m to $40m (£19m to £25m) and was facing collapse.
When questioned about this, a spokeswoman for the new OnLive company told the BBC that ISG had spoken too soon and "did not have all the information to make the estimate".
Big name hold-outs
OnLive is a pioneer of "on demand" cloud-gaming services. It uses remote servers to carry out processing work before sending video of its games' graphics to users' homes.
This allows subscribers to play games written for consoles, on other devices such as tablets, PCs or - with the help of a special adapter - TVs.
Mr Perlman had hoped to shake up the video-games industry and launched the system in the US, UK and Belgium.
But the biggest games publishers, Activision and EA, refused to support the business, and some users were put off by the fact they did not own physical copies of the titles they had paid for.
Despite this Gary Lauder, managing director of the venture capital firm that now runs the OnLine service, said he believed it still had a bright future.
"I spent my first week with OnLive listening, to gather people's thoughts and suggestions," he said in a statement.
"It's an impressive group, and I am even more convinced that this company is poised for greatness".
He added that Charlie Jablonski, former head of OnLive's operations, would become its acting chief executive.
OnLive had previously said that it had offered "almost half" the original workers their jobs back with the same salary as before.
But there have been reports that many were unhappy to have lost their right to stock in the firm and the way the restructure had been handled.
Both Venturebeat and The Verge tech sites have reported that several workers had demanded Mr Perlman's permanent resignation before they would consider returning.
The move may also help the new business attract other investors after BT, HTC, Warner Bros and others lost the millions of dollars they had invested in the original OnLive.
"It helps to have a clean break with the past, and Perlman was the face of the business - the question is now whether they can find a full-time new visionary leader rather than just someone who was part of the previous team," Ed Barton, director of digital media at Strategy Analytics, told the BBC.
"Given what has happened previously any investor will now want a high-risk premium, a lot of transparency and a very clear road map to profitability.
"The main difficulty won't be getting people interested, but getting them to agree to a valuation which will inevitably be much lower than what it had been when others got involved."
Goodbye message
Mr Perlman posted a message to the service's users on the OnLive Fans community website to mark his departure. In it he indicated that he had left of his own accord rather than being ousted.
"For me, the end of last week was the first time in a very long time where I could actually consider the possibility of moving on without having to worry about the company," he wrote.
"Gary did want me to stay, but OnLive is by far the longest project I've ever worked on, I have other projects long in need of my focus and attention, and Gary needed to lock down the structure for the new company.
"In the balance, it was a good time to move on, and Gary understood."