Sony shuts Wipeout video game studio in Liverpool
By Leo Kelion
Technology reporter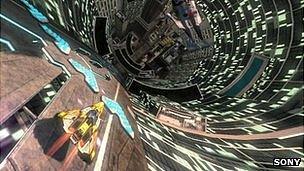 Sony has closed one of the UK's oldest video game studios following a review of its operations.
Sony Liverpool employed about 100 workers. It dated back to 1984 when it was known as Psygnosis. The Japanese company bought the developer in 1993.
Its early titles included Barbarian and Shadow of the Beast for the Amiga and Atari ST. It also published Lemmings.
It was perhaps best known for later PlayStation releases including the Wipeout racing game series.
A statement released by the company to the games site Kotaku said: "We do regular reviews to ensure that the resources we have can create and produce high quality, innovative and commercially viable projects in an increasingly competitive market place.
"It has been decided that Liverpool Studio should be closed. Liverpool Studio has been an important part of Sony Computer Entertainment Worldwide Studios since the outset of PlayStation, and has contributed greatly to PlayStation over the years. Everyone connected with Liverpool Studio, past and present, can be very proud of their achievements.
"However, it was felt that by focusing our investment plans on other studios that are currently working on exciting new projects, we would be in a stronger position to offer the best possible content for our consumers."
The firm said other divisions at its Liverpool campus would not be affected. But it did not mention whether the staff at the shuttered studio would be offered posts elsewhere.
The unit's last title was Wipeout 2048 for the PlayStation Vita handheld console. A message on the game's Facebook page from the team said: "Thank you for everything, Pilots. It's been an amazing journey and we'll miss you."
The founder of the independent games studio Rebellion, which also employs staff in Liverpool, said the decision reflected a wider shift within the games industry.
"It's a tragedy when an old institution like this disappears, but the times are changing and games are moving from a retail-dominated landscape to a digital download-dominated one," said Jason Kingsley.
"Arguably the power that the big publishers had, employing lots of talent, was relevant to the old model - now the advantage of being big isn't so important and smaller teams can be just as effective.
"You can liken it to a jungle environment - when a big tree falls over it creates lots of opportunities for others to grow in its space. There is still a lot of life and excitement in the UK gaming industry, and hopefully opportunities for some of Sony Liverpool's staff too."
Evan Narcisse, a writer at Kotaku, added that the Wipeout series had seen a decline in popularity, but said the studio left behind a strong legacy.
"Psygnosis was one of the first games studios to deliver titles that felt like they were delivering a unified, artistic vision.
"Early titles like Shadow of the Beast expanded the polish, scope and ambition of the video game medium and didn't feel quite as disposable as other contemporary titles.
"It was also notable for making the transition from home computers to consoles, riding out a shift that many companies didn't survive. I remember playing Wipeout on the first PlayStation years ago... the art direction, music and feel was like nothing I had ever experienced."
The announcement of the studio's closure came amidst news of turmoil elsewhere in the industry.
Popcap, the company behind Plants vs Zombies, has cut 50 posts at its Seattle headquarters following its takeover by Electronic Arts. It has also signalled it might close its Dublin studio with the loss of about 100 positions.
Norwegian developer Funcom has also announced what it described as "temporary layoffs" blaming "mixed or average reviews" for its recent release The Secret World.
However, Call of Duty publisher Activision has recently opened a studio in Leeds called The Blast Furnace which is dedicated to making games for mobile devices.
Transformers Universe creator Jagex has also opened a new studio near Cambridge, while in the US Gears of War developer Epic Games is creating Impossible Studios in Hunt Valley near Baltimore, Maryland.
Related Internet Links
The BBC is not responsible for the content of external sites.