Pussy Riot court website up after hack attack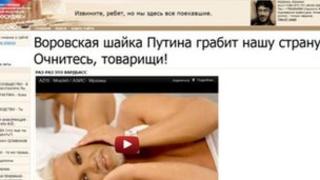 The website of a Moscow court that sentenced three members of Russian punk band Pussy Riot has suffered a hack attack.
The site of the Khamovnichesky District Court was defaced with anti-Vladimir Putin slogans and a video uploaded.
Three women were jailed on Friday for staging an anti-Putin protest in a Moscow cathedral in February.
In a message on the site, the attackers associated themselves with "hacktivist" group Anonymous.
"We are American group Anonymous. We don't forget and we don't forgive," said the post, in Russian.
"Justice system has to be transparent. Pussy [Riot's members] are alive," said another of the posts.
Hackers also uploaded a new song by Pussy Riot, called Putin is Lighting the Fires of the Revolution, and a video of a Bulgarian singer, Aziz.
A spokeswoman for the court said the attack had been discovered early on Tuesday and the site was temporarily taken down.
Three members of the band, Maria Alyokhina, Nadezhda Tolokonnikova and Yekaterina Samutsevich, were found guilty of "hooliganism motivated by religious hatred" and jailed for two years.
The US, UK and EU called the sentences "disproportionate"; prosecutors had been seeking a three-year term.
The women said their performance had been to highlight the Russian Orthodox Church leader's support for Mr Putin.
Internet hacking group Anonymous is known for cyber-attacks around the world.
Recently, its members have claimed responsibility for attacks on several government websites in the UK, and earlier in 2012, a number of government sites in India, China, Japan and other countries were taken down or defaced.