Sale of tarot readings and spells banned on eBay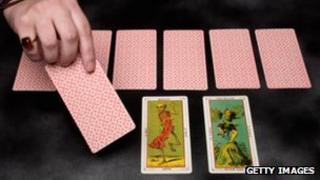 The sale of a range of fortune-telling and witchcraft-related services will be prohibited on online auction site eBay after 30 August 2012.
Tarot readings, spells, curses and blessings are among the "intangible" categories being removed by the site.
The decision has been made because conflicts between buyers and sellers of these services are difficult to resolve, eBay said.
All listings of this kind will be removed in September, it added.
A petition against the decision on website gopetition.com has gathered 1440 signatures, reports Wired.
"I bought a spell on eBay to help a relative who was having difficulties at work and we were amazed by the results," said Michelle Hobbs from Dorset.
"If you do believe in that sort of thing and you believe it works then you should be allowed to buy it."
Michael Marshall, vice-president of the Merseyside Skeptics Society, is less convinced.
"I think it's solid consumer protection," he told BBC News.
"It's a very wise decision. Some people will cry it's a form of censorship, but the fact of the matter is things like tarot, spells and curses are all highly unproven.
"There are plenty of tarot readers out there who genuinely believe they have a psychic gift but that doesn't make it any more real."
In a statement on its website, eBay said that people continuing to list services in this category after the 30 August deadline may have their accounts suspended.