Fighting Fantasy series resurrected for 30th anniversary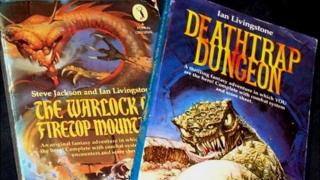 Walk into any British playground in 1982 and you'd have found a small cluster of children - probably boys - huddled over a handheld device, playing games together.
But this was no early digital forerunner of the Gameboy. This was a book. A Fighting Fantasy book.
It was a completely new genre: you didn't start at the beginning, read through to the middle and proceed to the end. The story prompted you to make choices and navigate your own way through the plot ("If you want to go right, turn to page 32. If you go left, turn to page 230") .
This month sees the 30th anniversary of the series that helped pave the way for the computer games explosion that followed.
"It was the pre-digital format for the interactive game," says Ian Livingstone, who alongside his friend Steve Jackson founded the series.
"It taught children about interactivity as a medium of entertainment."
Ian Livingstone went on to start Eidos, the software maker that invented Lara Croft and the Tomb Raider series.
Other games industry veterans agree the series was influential.
"When those books were out the eight bit computers weren't able to give very deep narratives or graphics," says Michael French, editor-in-chief of trade magazine MCV.
"Fighting fantasy relied on the most powerful hardware out there - your imagination."
"It inspired many people to go into the computer industry and make deeper games."
For Steve Boxer, freelance technology reporter, the series played a critical role.
"Before there were ubiquitous multiplayer computer games you'd get users on huge networks playing text-based graphic adventures," he says.
"Those grew out of Fighting Fantasy and its imitators. That was where industry proper started off."
Undead franchise
To mark the anniversary, Australian firm Tin Man Games has bought the rights to publish iPhone and Android application versions of the Fighting Fantasy series. The first title will be released in September.
"The game books were what introduced me to role-playing games such as Dungeons & Dragons and beyond into computer and video gaming," says Neil Rennison, founder of Tin Man.
"Ian and Steve captured something very magical in the '80s and a whole generation of teenage boys at the time will be forever thankful."
Mr Livingstone has given the project his blessing.
"I'm hoping all the collectors of old will be playing the games on their commutes into work again," he says. "And now that many of the gamers from the first time round are approaching 40 I hope they'll introduce their children as well."
Return to Firetop Mountain
But Fighting Fantasy books have previously been brought into the digital age. Until 14 August the rights to market the games through apps were owned by Canadian software company Big Blue Bubble.
It was not able to reinvigorate the Fighting Fantasy brand back to its glory days. Will Tin Man's versions do better?
"You never know what factors are at play when it comes to making mobile phone apps, how well funded they are," says Mr Boxer.
"But I think the world of mobile phones is an ideal place for these games."
"Things like point-and-click adventures consistently sell really well on app stores. You could argue that they arose out of Fighting Fantasy."
But MCV's Mr French is more cautious.
"These days the success of any kind of game app can't predicted in advance," he says.
"There might be gamers wanting apps on their phone - they have to make it relevant for consumers today."
The developers at Tin Man are not planning a radical overhaul. They believe keeping the games true to their original format - with added modern flourishes - will generate appeal.
"Expect a fully digital re-imagining of the game books, with page turning and realistic physics-based 3D dice rolling," says Mr Rennison.
"We have a bit of blood smeared across the pages, fully re-painted artwork and to top off all of this we are getting brand new soundtracks composed for each book, which will add atmosphere."
But just as books beat computer games to the market in 1982, they have done it again now: the latest release - Blood of Zombies, penned by Ian Livingstone - has been in shops since 4 August to mark the start of the anniversary month.
It has been a long journey since 27 August 1982, when The Warlock of Firetop Mountain was published.
"I'll never forget going into a bookshop on the first day and seeing it on the shelves," says Mr Jackson. "It was in the children's section, right on the bottom shelf, in the corner."
The result was an instant hit. Sales took publisher Puffin completely by surprise.
"It was unbelievable," Mr Jackson says. "We had a meeting and Puffin wanted two more books within 30 days. At one stage we had all three top slots in the UK bestsellers charts."
Eventually, 59 books would be published in the original run, with other affiliated works appearing too. More than 17 million copies have been sold worldwide.
Steve Jackson went on to found Lionhead Studios, which created the Fable series of video games.
He hopes marrying the adventures to mobile technology will renew interest in the Fighting Fantasy brand.
"The principles are the same, you can just do a lot more with computer games."
So next time you watch that accountant on the train take out his smartphone and start tapping away just remember he may not be typing an email - he may be choosing between a turn to page 40 to escape and a flick to page 111 to battle the zombie horde.