Surfthechannel owner sentenced after piracy conviction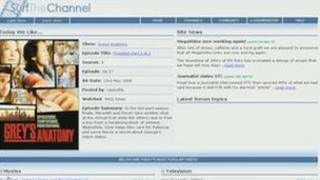 The owner of Surfthechannel.com - a site that provided links to illegally copied TV shows and films - has been sentenced to four years in jail.
It used to be one of the UK's most popular sources of pirated content.
Anton Vickerman, from Gateshead, had designed the service's pages, hiring others to source material and carry out other back-end functions.
The 38-year-old was found guilty of conspiracy to defraud in June for "facilitating" copyright infringement.
The maximum sentence that could have been given at Newcastle Crown Court would have been 10 years.
Surfthechannel.com had acted as an index of professionally made online videos - both legal and illegal - encouraging its users to send in new links and check that they worked.
However, it did not host the video files itself, but instead pointed visitors to other sites including Megavideo and China's Tudou.
The Federation Against Copyright Theft (Fact) said that at its height in 2009 the site attracted more than 400,000 visitors a day, generating more than £35,000 in advertising revenue a month.
Private investigator
Mr Vickerman ran the site through a limited company, called Scopelight, which sent earnings to a bank account in Latvia.
He was arrested after Fact and the MPAA (Motion Picture Association of America) hired a private investigator who took photographs of Mr Vickerman's home and computer equipment in July 2008 after pretending to be interested in buying the property.
Police raided the house a month later, arresting Mr Vickerman and his wife.
Kelly Vickerman was found not guilty by the jury.
Despite the arrests Surfthechannel continued to operate and only went offline in May, coinciding with the start of the trial.
Fact welcomed the case's outcome.
"Mr Vickerman knew what he was doing from the outset, having been involved in the pirate community for some time," said the organisation's director general, Kieron Sharp.
"This was not a passive search engine. Surfthechannel was created specifically to make money from criminal activity and it became the biggest site of its kind on the internet within two years.
"The sentencing indicates the severity of the offences committed and the sophistication of his criminal enterprise and should send a very strong message to those running similar sites that they can be found, arrested and end up in prison."
But others have expressed concern that Mr Vickerman was found guilty of conspiracy to defraud rather than being prosecuted for copyright infringement.
The Techdirt blog has described the law as being "vague" and noted that the charge had previously been unsuccessfully levelled against the owners of Oink and tv-links.co.uk - sites which had also offered indexes of links to pirated material.