Bitcoin users sue over funds lost in site attack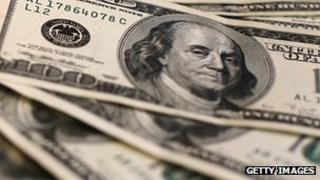 A Bitcoin website - which handles virtual currency trading - has been sued by four users who said it failed to provide adequate compensation following a security breach.
Bitcoinica suffered an attack earlier this year and the theft of $228,000 (£145,000) of the virtual currency.
The users said the site neglected to keep money safe, and has not honoured a promise to return lost funds.
They have asked for $460,458 in costs and damages.
Bitcoin is a peer-to-peer powered currency consisting of anonymous, heavily-encrypted codes which only a specific user can unlock.
The "real world" value of Bitcoin fluctuates heavily, but current prices put their worth at about $10 (£6.30) for each Bitcoin unit, written as BTC.
Technology news website Ars Technica reported that Bitcoinica suffered a loss of more than 43,000 BTC in a security breach in March. Ten days later the site was hit again.
At the time, Bitcoinica assured users: "The overwhelming majority of our Bitcoin deposits were not stolen. The thief stole from us not you. All withdrawal requests will be honoured."
'Failed and refused'
However, in court filings, four users said that only half of their Bitcoins have been returned.
"Bitcoinica and the other defendants have returned a portion of the amounts of plaintiffs' claims," the documents said.
"Plaintiffs have demanded that Bitcoinica and the defendants return the remaining amounts of their claims, but they have failed and refused to do so."
It goes on to allege that Bitcoinica "willfully conspired and agreed upon themselves to hinder, delay and deprive" the return of the Bitcoins.
Bitcoinica has since stopped trading. A message on its website reads: "We apologize for this incident and the inconveniences it has caused.
"The incident happened during a transition period, which was initiated to bring Bitcoinica up to a professional level of security.
"Bitcoinica will not continue operations until the transitional process been completed."