Starbucks backs Square for mobile payments in shops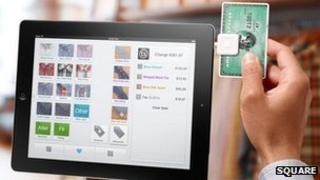 Global coffee shop chain Starbucks has invested $25m (£16m) in Square, an electronic payment service founded by Twitter co-founder Jack Dorsey.
Nearly 7,000 shops in the US will accept payment via the service in which credit cards are slotted into a small device connected to a smartphone.
Starbucks' head will become a director at Square as part of the deal.
Analysts said the deal has put pressure on Square's competitors in the sector, including Paypal and iZettle.
The devices - which typically plug into either a phone's headphone or charger socket - allow businesses to accept credit and debit card payments without having to invest in more expensive till systems.
The technology also allows users to accept card payments at festivals and other locations outside a permanent store.
'New visibility'
In a letter posted to Square's website, chief executive Mr Dorsey said the deal would help "accelerate" the product.
"When Starbucks builds the Square Directory into their apps and in-store Digital Network, it gives Square new visibility, driving more customers to opt-in to Square."
Starbucks' chief executive Howard Schultz added: "As the largest retail mobile payment platform in the US, we're excited and proud to accept payments with Square.
"Highly innovative and relevant payment capabilities are causing seismic changes in consumer behaviour and creating equally disruptive opportunities for business."
US Starbucks stores will begin accepting payment in the autumn, the company said.
The deal is the latest coup for Square which is looking to cement its place as the platform of choice for mobile payments using a smartphone plug-in.
It faces competition from major players. Paypal, already a long-established and trusted name in internet payments, has launched its own tool and accompanying app called Paypal Here.
Like Square, Paypal Here takes a small cut of each individual payment, shaving off 2.7% from every transaction. Square takes 2.75%.
'Evolutionary stage'
Neither service is yet available in Europe - but iZettle, a Swedish company, is looking to expand into the area with considerable efforts in several countries including the United Kingdom.
Windsor Holden, research director at Juniper Research, told the BBC that mobile payments were at a "key evolutionary stage" in their bid to become mainstream.
"At the present time there are no clear-cut winners," he said.
"Moving forward, it's unlikely consumers will want to be constrained by competing technologies.
"If you go into one store and pay with one technology, but are not able to use that technology in another store, clearly that will be problematic."
As well as Square, Starbucks has also invested in providing NFC (near-field communication) payment facilities in its shops.
NFC-enabled devices work by customers simply holding them within a few centimetres of a receiver that will automatically debit the required amount.
Mr Holden said he believed such systems would eventually overtake Square-style systems, but that efforts were needed to convince the general public about their usefulness.
"Education is clearly a major issue here," he said.
"Regardless of the technology that you have to enable contactless payment, you've got to have the people actually aware they can do it."