Kodak patents attract 'low bids' from Apple and Google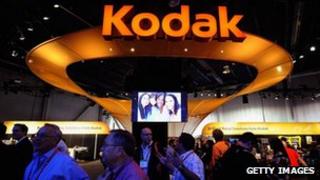 Kodak's efforts to save itself from collapse have been dealt a setback after initial bids for some of its patents came in significantly below target, according to reports.
The firm's court filings suggested its 1,100-plus digital imaging innovations were worth as much as $2.6bn (£1.7bn).
But two offers are said to have only ranged between $150m (£95.6m) and $250m (£165m).
Apple and Google are reported to be involved with the rival bids.
The Wall Street Journal and Financial Times said the iPhone maker had teamed up with patent holding firm Intellectual Ventures.
Much of IV's business is dedicated to buying and then licensing out patent rights. Critics have described it as being a "patent troll" because it has sued others to defend its rights while not using the patents to make products itself.
However, IV says it helps its customers secure the rights they need and that it "energises" technological progress by creating a market for ideas.
The papers said Google, which makes the Android smartphone operating system, had teamed up with RPX.
San Francisco-based RPX is also a patent aggregator and licensor, charging third-parties for access to its intellectual property library.
Its founders previously worked at IV, but market their services as a "defence" against the kind of lawsuits launched by their former employer and other "non-practicing entities" (NPEs).
RPX has vowed never to launch a patent lawsuit of its own.
Kodak would not confirm the reports.
"The auction process, including information about bids and the identity of bidders, is confidential pursuant to an order of the Bankruptcy Court," it said in a statement.
"Disclosure of submitted bids or the identity of bidders would violate the court's order and Kodak believes that speculation about the details and potential outcome of the auction is inappropriate."
Apple, Intellectual Ventures and RPX declined to comment on the news.
Google said it did "not comment on rumour or speculation".
Uncertain future
Debt struck Kodak sought bankruptcy protection in January and filed a motion to sell several of its patents in June after pulling out of the digital camera business to focus on making printing equipment.
It said it intended to announce the winning bidder by 13 August.
The patent portfolios on sale include ways to let devices capture, process, edit and transmit images.
The firm had previously noted that it had generated more than $3bn by licensing some of the technologies to Samsung, LG, Motorola, and Nokia.
But it lost a lawsuit in July after Apple and Blackberry-maker RIM challenged its right to claim payments for some of its most lucrative inventions.
Kodak said it had $6.8bn worth of debt against $5.1bn of assets at the start of the year. It subsequently reported another $299m net loss in its second quarter results.
Although the offers, as they stand, would not cover its shortfall, observers say the bidders are likely to return with higher figures to try to secure the assets.
"Both Apple and Google have a fairly aggressive strategy in terms of patent enforcement," Simon Clark, head of intellectual property at London-based law firm Berwin Leighton Paisner, told the BBC.
"I think we'll see the prices go up as each side tries to outbid the other. What will be interesting is to see whether the victor will take a licensing approach or seek to further litigate against rivals."