Tesco try out virtual grocery shopping at Gatwick Airport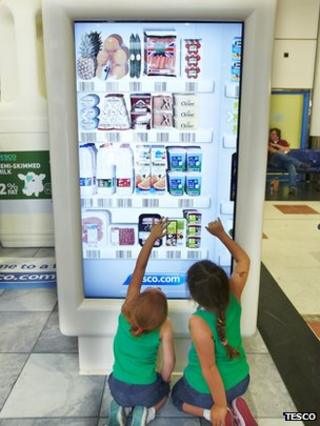 You know the feeling. You're at the baggage carousel and the holiday already seems like a distant memory. Thoughts then return to home and what food might still be lurking in the fridge.
Tesco think they've got the answer.
For the next two weeks, they're trialling what's being billed as the UK's first interactive virtual grocery store in the departure lounge at Gatwick Airport.
There are four interactive screens that you can slide by hand to reveal shelves with an assortment of 80 products.
If you want to buy one, you scan the barcode with your smartphone.
The idea is that you can order a basket of essentials and have them delivered the day you get home.
M-commerce
But is this just a gimmick, or will the idea take off?
Retailers are scrambling to catch up with the rapid growth of smartphones and how they're changing the way we shop.
Mobile commerce - or M-commerce - is the fastest growing area of retail.
According to the Interactive Media in Retail Group, it's expected to make up around 15% of all online sales by the end of the year.
And nearly a quarter of consumers have used their smartphone to access websites while out shopping.
Tesco reckon they've got a captive audience to try out their latest technology at Gatwick's North Terminal.
It's also one of the busiest times of the year with tens of thousands of passengers with a lot of time to kill between flights.
"We don't think it's a gimmick - it's a taste of the future," says Mandy Minichiello, marketing manager for Tesco.com.
"In 2016, about 90% of all mobiles will be smartphones.
"We're doing this as a trial to try to get some customer feedback. We're keen to make customers lives as easy as possible.
"Increasingly, they want to shop on the go."
Tesco was a pioneer of internet retailing and has more than a million online customers.
They've also done a similar experiment in South Korea, where commuters pointed their mobile phones at billboards in subways and bus stops. These have become a permanent fixture.
The UK trial goes further with an interactive feature.
"It's significant they're doing this before other mainstream retailers have got in on the act," says Neil Saunders, managing director with retail consultancy Conlumino.
"It shows that Tesco are determined to make a success in the mobile retail environment and the potential for growth."
Changing fast
Other retailers will be watching closely.
According to mobile retail strategy consultancy Velti, the industry is changing fast.
"Retailers are struggling to keep up," says Matt Cockett, vice president of sales at the company.
"A mobile strategy is key for any retailer because the revenue has more than doubled in the past 12 months.
"Mobile investment is about how you develop a strategy and manage to take advantage of the oncoming rapid changes in technology.
He added: "The Holy Grail is to connect the data touch points and to get a comprehensive view of each individual customer.
"Retailers need to consider all touch points that drive mobile traffic to support both online, mobile and in-store, and ultimately increase conversion rate."
Retail is increasingly all about making it as easy and convenient as possible for consumers to part with their cash.
Perhaps it won't be too long before the Tesco experiment will come to a bus stop or train station near you.