Nokia's Lumia phones to show Groupon offers on maps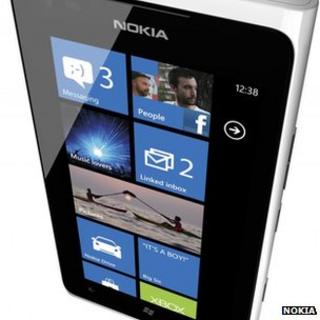 Nokia has added Groupon offers to maps on its Lumia smartphones.
By clicking on a green "G" icon, US users can now buy Groupon's discounted deal-of-the-day vouchers from their handsets and then locate the retailers participating in the offers by using Nokia's navigation system.
An analyst said the deal could be an advantage for Groupon, which had so far not been "local enough".
Nokia said it was interested in different ways of monetising its maps.
The new location platform will be integrated into the phone's Windows Phone 8 operating system.
"It is to our benefit to ensure that many different companies use this, and there will be companies taking advantage of the platform who may compete with other elements of Nokia," said the Finnish company's head, Stephen Elop.
"But that has to be okay. It has to be, you have to think that way. The competition... is not with other device manufacturers, it's with Google."
Nokia had been trying to make its maps available to a wide range of people, Martin Garner, an analyst from CCS Insight, told the BBC.
He added there were already some major web players using them, including social network Foursquare and Yandex, Russia's main search engine.
"It's not a surprise that Groupon is doing this, it's a logical extension," he said.
"There's a whole area of web use that could be made better if it used local information and maps, and one of the big weaknesses of Groupon's strategy has been that it hasn't been local enough.
"And by working with Nokia they can do this better. Lots of people are very interested in the local commerce, and this could be a way of making this work."