Dropbox details security breach that caused spam attack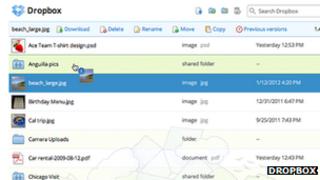 Online storage service Dropbox has given details of a security breach that led to many of its members receiving unsolicited emails.
A stolen password had been used to access an employee's accounts allowing a "project document" containing user emails addresses to be copied, it said.
The US company added that usernames and passwords stolen from other sites had also been used to sign in to some of its members' accounts.
It has adopted new security measures.
These include automated systems to spot suspicious activity and a new page allowing users to examine earlier log-ins to their account.
It has also advised users to create a unique password for each internet site and service they sign up to, and is offering its members the option to use two-factor authentication - which could involve using both a password and a code texted to their phone to gain access.
Customer complaints
The problem came to light last month after hundreds of its users complained they had received unsolicited email via the addresses they had registered their Dropbox account to.
The firm said at the time that it had called in a third-party to investigate.
Dropbox declined to reveal how many of the accounts had been compromised. Its site says it has more than 50 million users and is installed onto 250 million devices.
The security company Sophos branded the breach "a mixture of poor practice both inside and outside the organisation".
Several of the storage site's users also expressed concern. Some questioned why their details had been stored in an insecure location.
"What was a staff member doing with user's email addresses in such a way?" asked one user on the comments section of Dropbox's blog.
"If you had any regard for the privacy of your users you keep those addresses where they belong: locked away in a database," wrote another.
Digital dilemma
The problem comes at a challenging time for the firm. Google recently launched Drive - its own online storage service offering more "free" space to new sign-ups who only apply for a basic service.
Amazon's Cloud Drive also offers US customers 5GB of free storage, compared with Dropbox's 2GB, although the latter's members can boost their capacity by referring friends.
Microsoft is promoting its rival Skydrive service by integrating it into its new Outlook.com webmail product. Apple has introduced iCloud storage to Mac owners who have downloaded its latest system. And other start-ups, including SpaceMonkey and Owncloud, are offering storage solutions that avoid risks involved with uploading material to external cloud servers.
"The fact that this isn't the first time that Dropbox has been stung by a security breach is a cause for concern for both its corporate and consumer customers," Chris Green, principal technology analyst at Davies Murphy Group Europe told the BBC.
"The online storage market has become much more competitive since it launched in 2008.
"What Dropbox has in its favour is its size and - despite the breaches - it retains a lot of goodwill. But this is yet another example that cloud storage is still not trustworthy enough for critical and sensitive information."