UK enforces Pegi video game ratings system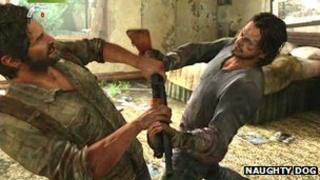 Video game ratings using the Pegi (Pan-European Game Information) system have become legally enforceable in the UK.
Retailers that sell titles with ratings of 12, 16 or 18 years to children below the age limits will be subject to prosecution.
To prepare for the move, the government decided to drop a parallel ratings system run by the BBFC (British Board of Film Classification).
Organisers say it will help families "make informed decisions".
In addition to the age ratings, packaging will also feature diagrams warning if the title includes bad language, drugs, discrimination, fear, gambling, sex, violence or online gameplay with other people.
Simplified system
The move was first announced by the previous government in its Digital Britain Report in June 2009 which had followed the Bryon Review into Safer Children in a Digital World .
It had noted that "having a dual classification system and two sets of symbols often made things confusing for the consumer", adding that it was vital to switch to a single system.
The report also highlighted that Pegi's system often led to stricter age ratings than the BBFC might have given.
Under the new system the Games Ratings Authority (GRA) - a division of the Hertfordshire-based Video Standards Council - will be responsible for rating titles using Pegi's criteria:
Games are rated for 12-years and over if they include non-graphic violence to human or animal characters, a slightly higher threshold of violence to fantasy characters or significant nudity or bad language.
Games are rated 16-years and over if the depiction of violence or sexual activity looks the same as it would do in normal life. Drug and tobacco references also trigger the age limit.
Games are rated 18-years and over if there is a "gross" level of violence likely to make the viewer feel a sense of revulsion.
The GRA also has the power to ban a title if necessary, although it has said it expects to only do this "very rarely".
Only two titles have ever been banned in the UK - Manhunt 2 and Carmageddon. Both were the result of rulings by the BBFC and both decisions were later overturned.
The GRA can also suggest tiles are not suitable for children under the age of six or under the age of three, but these are not legally enforceable.
'Shocking' violence
Video game trade body Ukie has welcomed the development, saying that having one regulator will make it easier for developers to judge what rating their title would be likely to be given before submitting it, allowing them to adjust the content if needed.
To publicise the move the group has relaunched its Ask About Games website with information to help parents make informed choices.
The launch comes in the wake of editorials published by websites Rock Paper Shotgun , PCWorld and Cnet criticising the level of violence in some of the titles shown at last month's E3 video games conference.
The trailers for titles including Splinter Cell: Blacklist, Far Cry 3 and The Last of Us - in which the main character was shown shooting another person in the face at point-blank range with a shotgun - were highlighted as being instances where the level of violence had been "shocking".
The issue may become even more acute next year when Microsoft and Sony are rumoured to unveil next-generation versions of their consoles capable of more detailed graphics.
But Prof Tanya Byron, a consultant clinical psychologist and author of the report which led to the change in law, has stressed the positive benefits of the technology.
"Video games can be a great educational resource that can also fuel children's creativity," she said.
"It would be great to see parents taking an interest in their children's video game playing. This can involve taking direct control of what games their children play at home, how they play them and for how long, through taking note of the Pegi ratings."