Wireless electric-car charging tech to be tested in London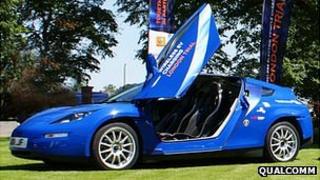 Wireless electric-vehicle charging technology is to be tested in London.
Chip developer Qualcomm says plug-in charging is too "cumbersome" and its tech could lead to batteries being topped up while cars are being driven.
Trials involving an adapted version of Formula 1 car designer Delta Motorsport's E4 coupe electric car will take place before the end of the year.
Further tests involving vehicles made by the French manufacturer Renault will follow in 2013.
Smaller batteries
Inductive charging - which involves using an electromagnetic field to transfer energy between two objects - is less power-efficient than alternatives such as charging posts or battery-swapping stations, but Qualcomm says the difference is only "marginal."
"The adoption of WECV [wireless electric vehicle charging] technology will lead to a shift in charging behaviour," said Qualcomm.
"Drivers will charge their electric vehicle little and often and potentially use dynamic charging to complement local stationary charging, removing range anxiety. This means that batteries could be smaller with the resulting reduction in electric vehicle cost and weight."
The firm added that its technology - dubbed Qualcomm Halo - could be used to keep vehicles' battery charges at between 40-80%, thereby maximising the life expectancy of the equipment. For the moment, it will only work when a vehicle is stationary.
London trial
Delta said it had become involved to help it learn more about the innovation.
The firm said it expected it to take a day's worth of mechanical modifications to add the new kit to its test vehicles
"It's very straightforward to add the technology," said Delta's technical director Nick Carpenter.
"We add a vehicle mounted pad which is connected to a Qualcomm controlled unit which in turn is connected directly to the battery.
"We also make amendments to our vehicle's touch screen interface to tell the driver when they are aligned with another pad on the ground to start the process, and if the car is charging."
The trial - which is scheduled to start around November - will see charging pads placed at Qualcomm's west London office, in the east of the city close to the Silicon Roundabout tech hub, and at the premises of the minicab company Addison Lee.
The private hire firm also intends to fit the equipment to some of its Citroen-built vehicles.
Race to market
Qualcomm is not alone in seeking to develop a plug-free solution.
BMW, Daimler, Volkswagen and others are already involved in a rival induction charging trial in Germany. In addition, car makers Rolls-Royce and Delphi have shown off concept vehicles fitted with wireless energy transfer systems.
Paul Newton, an analyst at IHS Automotive, noted the Oxford-based start-up Liberty Electric Cars also had plans to explore the idea in the UK.
But he questioned whether Qualcomm's full ambitions would come to fruition.
"Induction charging is a known technology and is already offered for devices like mobile phones - it's not new as such," Mr Newton said.
"The principle is valid and is likely to prove popular when people park their cars. But the idea of rolling it out to vehicles on the move seems quite fanciful because of the cost of fitting the equipment to all the roads."