London 2012: London Tweety12 - the first social media Olympics
By Dave Lee
Technology reporter, BBC News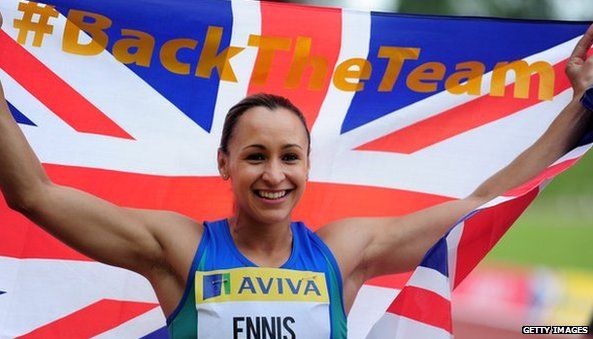 "Dad, where were you when Jess Ennis won gold at London 2012?"
"I remember it like it was yesterday, son. I was in the queue at the butchers, checking Facebook on my phone, and there it was… history in the making."
It may not be most people's perfect idea of sporting theatre - but when fans look back on the coming weeks, one thing many will remember is how London 2012 was the first 'social media' games.
Just look at the numbers. Four years ago, during the Beijing Games, there were just 100 million people on Facebook. Now, the network has rocketed past 900 million.
On Twitter, a similar story - six million users were on the service in 2008. Now, over 600 million have signed up.
Among them, many brilliant athletes, including some sporting veterans.
"I've been on it for just a couple of weeks now," said Sir Clive Woodward, director of sport for TeamGB, about his new Twitter account .
"I use it to publicise things - it gets out immediately, you don't have to wait until tomorrow's newspapers."
At the last count, according to the IOC, there were 2,014 verified Olympians, both past and present, using social networks - all poised to offer their views and reactions.
So where will they all be?
On Facebook, a specially created Olympics portal has been launched. This includes timeline profiles of some of the biggest stars. You can, for example, follow diver Tom Daley's life and career from the present day back to his birth.
"The investment of communicating their story stays with them forever," said Joanna Shields, Facebook's boss for Europe.
On Twitter , official accounts for London 2012, the International Olympic Committee (IOC), individual sports and athletes will keep supporters up to date.
"Never before have fans had such direct access to their sporting heroes," said Lewis Wiltshire, head of sport for Twitter UK.
"Athletes on Twitter answer questions, respond to 'good luck' wishes, talk to fellow stars, and share behind-the-scenes perspectives that people otherwise wouldn't have access to."
It offers a searchable directory of every verified Olympian on social media. Profile pages collate their activity across various networks, meaning every update - be it on Facebook, Twitter, or, soon, Google Plus - can be tracked in one place.
When fans interact with sports stars through the site they can receive bonus content, such as an instructional rowing video from Matthew Pinsent.
The IOC is also active on Instagram, Foursquare and Tumblr.
But allowing athletes to express themselves to such a large audience may not always be a good thing.
"It's not a perfect world," admits Sir Clive.
"TeamGB is over a thousand people. It's not only athletes, you've got coaches and support staff. The chances of somebody saying something that's a bit out of line is probably pretty high.
"But we're trying our best to educate. That's all you can do - you can either shut the door and pretend it's not there and keep your fingers crossed, or you can really go down the education route."
TeamGB has produced an instructional video for athletes - fronted by Dame Kelly Holmes - warning about the risks "loose" tweeting could have on their reputations.
"One of my favourite sayings when speaking to athletes is 'how do you want to be remembered?'" Sir Clive added.
"They're role models 24-7, and they're role models when they're on Twitter."
Athletes will also need to be mindful of strict guidelines from the IOC about what they can and can't post - particularly when it comes to videos and images from within Olympic venues.
Momentary lapses in common sense aside, social media is set to allow an unprecedented glimpse into the highs and lows of being Olympian.
One athlete who has charted a full range of emotions on the service is British sprinter Jeanette Kwakye. Her Olympic dream was shattered by an Achilles injury. It was a personal journey shared by her many Twitter followers.
"My timeline was full of my teammates who had made the team," she remembered.
"I put a statement out there saying 'this is exactly how I feel'. It was very raw, it was very up to the minute, it just gave people an insight to see there were two sides of the story.
With the opening ceremony just over a week away, Ms Kwakye said she would use social networks to get behind the athletes - and she urged other TeamGB fans to do the same.
"Although some athletes will opt not to tweet during the games, I'm sure a lot of them will be reading tweets that come their way. So it will be so nice to get a hashtag culture of support."
At Facebook, a different, altogether cheekier hope - the possibility that athletes will turn to the network to get to know each other and even end up changing their relationship status.
"That would certainly make it really interesting!" Facebook's Ms Shields said.
"Wouldn't that be cool? I don't know... I think their coaches would probably say 'behave yourself'."