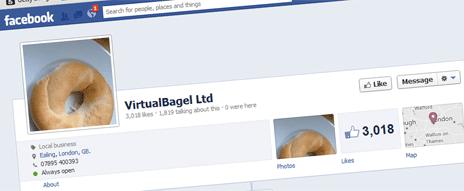 They pointed out - fairly enough - that my ad for my imaginary business VirtualBagel was poorly targeted. That may be true, although when I targeted it more precisely at the UK, the results proved very disappointing. And is poor targeting by advertisers any justification for getting them to pay for traffic from thousands of fake customers?
Small businesses that have tried Facebook ads have been telling me of somewhat lacklustre results. One beer retailer who targeted his adverts carefully at UK beer lovers quickly got 600 new "likes", only to find that they were then completely inactive on his own website. "Like 600 wooden soldiers," he told me.
But the social media marketing industry was also united in telling me that chasing after "likes" was no longer considered best practice. On another blog, someone came up with this line: "Any marketing director still chasing "'likes'... shouldn't be a marketing director."
That message does not seem to have reached some major brands. Look at the Facebook page for BMW's Mini. A banner across the top trumpets: "3,000,000! Thanks to all our Mini Facebook fans!"
But look at where those "likes" come from - the Mini page is most popular amongst 18- to 24-year-olds in Bangkok. Is that the campaign's target demographic?
And who told brands that "likes" were a valuable currency in the first place? Err, Facebook's Sheryl Sandberg. In a speech in London last year, she told the world that 50 million users liked a Facebook brand page every day.
Still, various people wanted to tell me about their very successful Facebook campaigns, and the social network itself points to companies such as Asos and Ford which have seen good results. Someone got in touch last week to tell me how well the government "GREAT" campaign to promote Britain abroad had used Facebook.
A number of "GREAT" Facebook pages have been set up:
Culture is Great Britain
Music is Great Britain
Technology is Great Britain
And so on, and in all they have now attracted nearly half a million likes. So who are these fans of our country and its products? The lead page is most popular amongst 18- to 24-year-olds in Rio de Janeiro - perhaps not the target market? - but the music page is hot in Hong Kong, which may be nearer the mark.
But has the campaign delivered value for the taxpayer? I asked the Cabinet Office how much of the campaign's £37m marketing budget had been spent on Facebook ads. I was told that this could not be disclosed, but someone close to the campaign reckons £70,000 has been spent so far with the social network. If true, that works out at about 14p a "like", which sounds reasonable value - if the "likes" are real people delivering that new marketing buzzword, engagement.
Which brings me back to VirtualBagel. I gained about 3,000 "likes" with no content and an advertising spend of £40, but the level of engagement on my page was close to zero. In other words, people weren't posting, or asking questions or even visiting the page at all.
Since I stopped advertising and started adding real content, I've only added about 300 "likes", but the level of engagement has soared, with vibrant discussions about the value of Facebook ads, and many more people listed as actually visiting the page.
Which chimes with what some other small businesses have told me - that Facebook can be a powerful way of having a conversation with your customers, but you don't necessarily need to pay for that.
"Our free marketing tools can be really powerful," a Facebook executive told me last week. I'm sure that is true - but it may not be the best message for a business that needs to convince investors that more and more companies want to pay for its advertisements.