Crowd-sourced funding site Kickstarter to launch in UK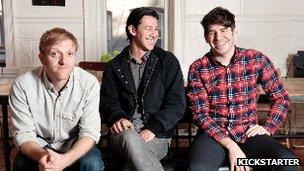 The crowd-sourced funding website Kickstarter is to launch in the UK this autumn, according to its Twitter feed.
The funding platform for new businesses has so far been limited to US-registered projects.
The tweet reads: "People in the UK will be able to launch projects on Kickstarter starting this autumn. More info soon!"
Since Kickstarter's 2009 launch it has funded more than 20,000 projects, with several eclipsing the $1m pledge mark.
Kickstarter uses Amazon Payments, which requires users to have a US bank account.
But a growing number of UK-based companies are already using the site, either by setting up a US company or partnering with an existing one.
Projects to have launched on Kickstarter include the Pebble, an electronic paper watch, which raised more than $3m (£1.8m; 2.2m euros) in less than a week on the site.
And the site has proved particularly helpful for video games.
The UK-based company behind video game Carmageddon raised $625,143 in June to enable them to create a sequel.
Its success follows that of Double Fine Adventure, which raised $3.3m; Wasteland 2, which raised $2.9m; Shadowrun Returns, which raised $1.8m; and dozens of other titles.
Valve, the owner of The Steam video game service used by 35 million people, has just launched its own crowd-sourced platform.
Steam Greenlight allows the gaming community to help pick the next games to be released on the network.
Developers will be able post information, screenshots, and videos for their game and seek a critical mass of community support in order to be selected for distribution.
It will also help them receive feedback from potential customers and start creating a community around their game early on in the development process.
What do you think of the crowd-sourced funding website Kickstarter launching in the UK? Please send us your thoughts using the form below.
Related Internet Links
The BBC is not responsible for the content of external sites.