Gambling add-on offered to app developers by Betable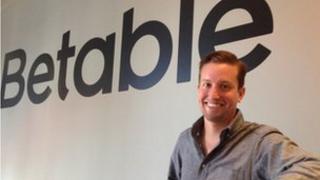 A US-run company has launched a software kit that will allow developers to add real-money gambling features to online games and mobile device apps.
Betable says it owns a licence issued by the UK's Gambling Commission which allows it to provide "betting services" on behalf of others.
Its offer gives app developers an alternative to selling virtual goods.
One gambling expert said safeguards would be necessary to minimise the risks of addiction.
Betable says it will only make its service available to products offered in countries where internet gambling is legal.
"There will be a total paradigm shift in how people monetise their games," Betable's founder and chief executive, Christopher Griffin, told the BBC.
Game changer
According to Betable's own research, "freemium" social games - which are offered as free downloads but promote paid-for additional content - generate on average $1 (65p) per month per user, while real-money casino-style gambling generates $300.
Existing gambling licence holders, including Ladbrokes, William Hill, Blue Square and Bwin, already offer their own sports and poker betting smartphone apps.
Others, including Microgaming, have developed casino-type titles using popular video game characters, such as Tomb Raider's Lara Croft.
According to betting consultancy H2 Gambling Capital, the internet now accounts for 10% of global gaming revenues.
Betable's offer to handle all transactions, compliance, auditing, and gambling mechanics, could drive this further.
"Everybody will have to get into real money at some point," said Mr Griffin.
"The alternative to them getting their licence is to use us - it's years shorter time to market."
Social gaming giant Zynga - the maker of Farmville and Words With Friends - has already said it was exploring real-money gaming, although it is not clear whether it would team up with a company like Betable or develop its own solution.
Addiction risks
One psychologist expressed concern at the development.
"We know the issue of problem gambling is linked to accessibility," said Prof Mark Griffiths, director of the International Gaming Research Unit at Nottingham Trent University.
"What you are doing here is increasing the opportunities to gamble on the move, and people may not think about the negative effects it may have when they download one of the apps.
"You can minimise the risks by introducing social responsibility features such as setting money and time limits. But the worry would be that we could see a rise in the number of people who are susceptible to gambling addiction getting started."
US law currently forbids banks and others offering payment processing services to betting services targeted at US citizens.
Since Betable's service includes moving funds to the winners' accounts, it will not be able to offer its service to apps offered to US account-holders unless the law is changed.