Sword-fighting game hits funding target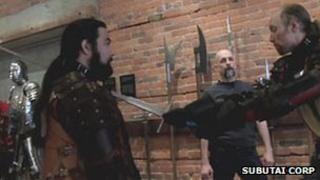 An attempt to raise $500,000 (£322,000) to fund the creation of a realistic online sword-fighting game called Clang has succeeded.
Proposed on crowd-sourced funding website Kickstarter, the project had been given until 9 July to raise the cash.
Clang was still $70,000 short of its funding total on 6 July.
However, a late surge of interest and funding pledges from project partners helped the proposal reach its target.
Best-selling science-fiction and fantasy author Neal Stephenson, the co-founder of games company Subutai Corporation, wants Clang to bring as much depth to fantasy hand-to-hand combat as is currently enjoyed by those who play first-person shooters.
The first version will be a virtual arena in which players can take each other on in one-to-one duels.
Future versions will aim to turn Stephenson's shared fictional world, known as Foreworld, into an open-ended virtual environment through which players can adventure.
In the initial duelling version, players will control their sword using peripheral maker Razer's Hydra controller.
The boss of Razer, Min-Liang Tan, helped the funding drive by pledging to donate $1 to Clang for every "like" and "share" given to a Facebook message he posted about the project.
The post received more than 10,000 likes and shares.
Clang's quest for cash was also helped by the nine people who each pledged more than $10,000.
For such a generous commitment, these donors will be given custom-made steel long swords crafted by master swordsmith Angus Trim.
Clang hit its funding target with about nine hours to go until its deadline. It currently has pledges of $519,477 (£335,000).
When it hit the target, Clang creators posted a message on the Kickstarter site saying: "We did it! Words are somewhat lacking right now, but we are so thrilled! Thank you all so much!"