How schools will boot up a new ICT curriculum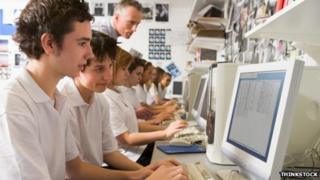 As the schools in England close for the summer holidays, the planning of lessons in September is probably not top of teachers' to-do lists.
But information and communications technology (ICT) specialists could find they have to grapple with the issue sooner than their colleagues, as the government aims to overhaul the way the subject is taught.
Education Secretary Michael Gove kick-started the process back in January by saying current ICT lessons were "demotivating and dull' and needed radical reform.
Schools, he said, needed to ditch lessons on how to use Powerpoint in favour of getting the kids designing apps and learning to code.
The speech took ICT teachers by surprise and many are still no clearer about what is expected of them when schools return for a new academic year.
"The framework for ICT and the exams changed without any warning or training," said Carol Dawkins, an IT teacher at Toynbee School in Chandlers Ford.
"There has been no preparation or consultation with teachers."
Peter Mapstone, head of IT at King Edward V1, an independent school in Hampshire, said: "It is the right idea, but it has been done very quickly."
"There has been some confusion and there is still a question of, 'What do we do?'"
Following Mr Gove's speech, the government made two important changes for ICT.
It has scrapped the programme of work that dictated what teachers taught in the first three years of secondary school.
And children wishing to take ICT to exam level will have fewer choices, with more emphasis on computer science.
For Mr Mapstone there is one glaring problem with the government's desire to see more teaching about how computers actually work.
"There aren't enough skilled teachers to deliver computer programming," he said.
According to government statistics only 35% of ICT teachers are specialists, compared with more than 80% for core subjects such as maths and English.
What exam?
Prof Matthew Harrison, director of education at the Royal Academy of Engineering, agrees there could be a shortage.
"A degree in computer science is very lucrative on the open market," he said.
"Graduates go and get a job in computing and earn a lot of money."
But he thinks that the changes were necessary.
"Some ICT lessons had become pedestrian," he said.
"There were many different qualifications and different options within them. Many were about digital literacy, which is not going set people up for progression in computing beyond the age of 16."
The academy has prepared a guide , breaking down the qualifications now recognised by government into three distinct categories - digital literacy, IT and computer science - to help schools decide which ones to offer.
Ms Dawkins says a narrow computer-science-based curriculum could have unintended consequences.
"As a result of the government's new policy, there is a question mark over which exams are acceptable," she said.
"Now government wants us to go down a more academic route, it has narrowed down the qualifications that are recognised, which may mean we get even less people choosing it."
The Department for Education is clear that schools must take the initiative when it comes to teaching ICT.
"The current ICT curriculum is weak and outdated," a spokeswoman told the BBC.
"We must give teachers freedom over what and how to teach - so pupils can access up-to-date and relevant ICT and computer science resources, rather than an invalid and prescriptive curriculum."
The government was "expecting schools to take the lead and come up with innovative ways to teach ICT," she added.
Google teachers
Some believe the debate about the state of ICT teaching in the UK was kick-started by Google chairman Eric Schmidt who, in a speech last August, said the UK was throwing away its computing heritage and lacked trained specialists.
Computer science education, he said, was in a "sorry state".
In May, Google unveiled a plan to invest in computer science teachers via the Teach First charity, which puts "exceptional" graduates on a six-week training programme before deploying them to schools where they teach for a two-year period. It aims to train 100 such graduates over the next three years.
Each will have a bursary to buy equipment, such as Raspberry Pi or Arduino computer kits.
Partnerships with industry are just one of many innovative ways that ICT can be taught, according to Prof Harrison.
"You can bring in volunteers from industry to buddy with teachers," he said.
"We have already seen that happen in design and technology, where engineers were deployed alongside teachers."
ICT, he says, needs a campaign similar to the London Evening Standard newspaper's recent literacy campaign, which called for volunteers to spend an hour a week in classrooms helping primary school children learn to read.
There is also a lot of scope for crowd-sourcing expertise. Computing At Schools is a grass-roots group that aims to share expertise among like-minded teachers.
But these are only short-term quick fixes and a more long-term vision is also necessary, according to Prof Harrison.
"If, like I do, you believe that computing is vital component of the UK economy going forward then you have to invest and plan for it," he said.
"You have to recruit specialists and deploy them widely in schools. Computing needs to be seen as an important part of the education landscape, on a par with maths and physics."