TEDGlobal: Camera shows off speed of light images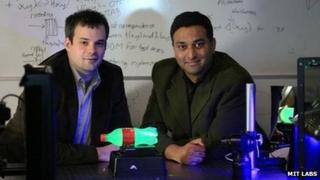 Images taken by a revolutionary camera fast enough to capture light pulses moving through objects have been shown off at the TEDGlobal conference.
The so-called femto-camera can also take pictures around corners by collecting the tiny amounts of light that bounce around the scene.
Prof Ramesh Raskar showed a video of light travelling through a plastic bottle on stage.
The images may help develop new theories about how light travels.
"Einstein would have liked it," said Prof Raskar.
But taking images was not his first thought for the camera, which was developed at the MIT Media Lab in 2010.
X-ray replacement
"Initially I was obsessed with the camera seeing around corners and then I realised that we could use the data for pure visualisations," he told the BBC.
He has discussed the idea with scientists from around the world, including those at Cern - the base for the Large Hadron Collider.
"They have various ultra-fast events at the sub-atomic level which this has potential to help with," he said.
Other possible uses for the femto-camera include health imaging to offers views from inside the body without using x-rays.
An adapted device could also allow cars to "see" obstructions on the road ahead, while in disaster zones it could be used to see where people need help.
"It will challenge what we mean by a camera," said Prof Raskar.
He admitted that it would be some time before the huge device made it out of the laboratory but to help it on its way he has released details about the technology behind it.
"We are trying to start an open source movement," he said.
"All the interlocking parts are not fundamentally expensive so we want to start a femto-camera and femto-photography open source movement for science, art or just for curiosity."
Eye prescriptions
He also showed off a much smaller and cheaper device, part of a new start-up dubbed Eye Netra (Near Eye Tool for Refractive Assessment).
The clip-on eye-piece sits on a smartphone and acts in the same way as much more complex devices used by professional opticians.
"We are entering a world of hardware snap-ons that can change the functionality of phones," he told the BBC.
"It is an interesting contrast between the super-expensive technology and super-cheap technology for the masses."
He added that the devices could prove useful in the developing world where many people cannot secure an opticians appointment.
Transient imaging camera
1: Camera fires short burst of intense laser light
2: Light reflects off surrounding surfaces, including door
3: Camera aims to expose hidden person within room

1. Camera shutter remains closed so it is not overwhelmed by first reflections
2. Fraction of light particles reflected around the corner hit the hidden person
3. An even smaller amount of light particles are reflected off the person

1. Diminishing number of light particles reflected around the corner
2. Shutter opens to collect the remaining light. Software subtracts ambient light
3. Algorithms reconstruct image of surrounding area including hidden person

BACK
{current} of {total}
NEXT