Zynga's chief technology officer sets out its long-term game plan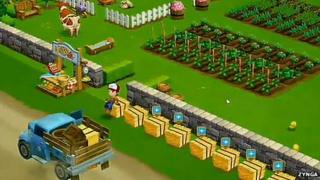 The social video game firm Zynga poses a dilemma. On the one hand its titles are some of the most popular on Facebook and app stores.
It says it attracts 182 million unique players every month - all of them potential customers for its virtual goods.
On the other it is a loss-making developer with huge ambitions but a questionable future, in part because its fortunes are so closely tied to Facebook.
These doubts are reflected in its stock, which is currently more than 40% below its flotation price.
To discuss the San Francisco-based company's future the BBC spoke to Cadir Lee, Zynga's chief technology officer:
Zynga always aimed to be social gaming company. What lessons did it learn along the way?
We started with the premise that social matters. And over time we have seen how important that is.
We have this thing called the Active Social Network, and one of the things that we have seen is that your likelihood to play and to continue to play is directly related to the number of people you are engaged with.
We do a considerable amount to make sure that the difference between playing by yourself and playing with even just one person is significant.
There's a huge step up in terms of the numbers of days you play, how engaged you are. And it keeps going as you have three, four, five or six people.
It really shows that if you have this core group with a half dozen or a dozen people that they're going to be much more engaged in the game.
You have bought or opened studios in Bangalore, Beijing, Tokyo, Frankfurt, Dublin and London outside of the US. Is this about making sure you understand local markets or are you just securing talent?
We do believe talent from different areas will have a different perspective. When we acquired the China studio they brought a good perspective on innovations that were happening in that market.
I think the Chinese gaming market has been in general ahead of the western markets for a long time. They really pioneered virtual goods which we've done a lot of.
It's valuable to have different perspectives. But primarily it's talent. We've been looking for places we can get incredibly talented developers to help build games.
Is much of your focus on China at the moment?
We've done work with Tencent [China's biggest internet company].
We recently announced some work that we're doing with Sina [owner of China's biggest Twitter-like service] with Draw Something.
So we're also dabbling in the Chinese market and that's been valuable for us to get the local perspective and work with those partners and be learning.
It's been a tough market for many western companies, so we are trying to be humble and learn from the players that are there and the successes that are there.
You have developed popular smartphone apps such as Poker By Zynga, and acquired others such as Draw Something and Words With Friends. But some analysts remain concerned that you will find it hard to find the same kind of success on tablets and phones as you have had on PCs via Facebook.
I think it's definitely been a challenge, but we've been in mobile for not even two years and I think we have made tremendous progress.
We have had the number one downloaded game of all time with Words With Friends and we have been successful in expanding that franchise - Hanging With Friends, Scramble With Friends have been successes as well.
But I think the thing that is hard is that the smartphones haven't had the same social liquidity and discovery that you have on Facebook. I think one of the things that has been really successful on Facebook has been that as a game is getting heat with people playing it, other people get to see that - it has a natural virality.
That is harder on smartphones. It's hard for you to know that I'm playing Word With Friends, or that other people are, or how many people are.
We would love to see an app chart that is by daily active users. Apple always announces installs and so forth, but it would be really interesting to see an app chart showing what are people actually playing, or an app chart based on ratings - not just one based on downloads that they aren't playing any more.
How would you describe your current relationship with Facebook?
Good. It's actually gotten better and better over time. It's always hard when you have two big companies having a symbiotic relationship.
If you look at Microsoft and Intel and so forth that's a hugely beneficial relationship for both of them, but there's lots of tension for many years. You constantly have this partnership that has tension.
But I think we've done a really good job of having regular dialogue.
Both your firms' shares have had a roller coaster ride. Reuters recently reported the issue was causing "discontent" and "frustration" at Zynga with morale "ebbing along with the stock price" since many of your workers own stakes.
Even before we went public, we had a sort of open dialogue to tell people in advance that the share price is going to go up and down and what we are really focused on is connecting the world through games and it's going to be a long-term thing.
If you look at a lot of successful companies - Amazon and Apple are the two that come to mind - they went through very long periods where they went after a mission and it wasn't necessarily reflected in their stock price. Today you would say those are both two very successful companies.
We actually had some little slogans around saying "keep calm and carry on" which was to remind people you can work to make the business better and you're not going to change anything about the share price until we do that.
The other thing is that a huge portion of our employee base has only been at Zynga for a year or two years.
They still have a lot of vesting in front of them so it's kind of like where the stock price is now is irrelevant to them, they haven't even vested into their first shares. They need to look out to where the stock is going to be in three to four years.
An ethical question: people can become addicted to games like yours and end up spending a lot of money on virtual goods or continued access. Are you aware of these risks and do you monitor if gamers are spending too much?
We try very hard in our games to have short sessions so we actually try to cut people off.
We try to have natural ending points where you can play for five to 15 minutes and be done. And we do that primarily because we want to spin it out.
We want you to keep playing for a long period of time. We don't want you to get so into it that you come out and say "I can never touch that again".
But wouldn't it be worth capping what people can spend to protect them?
We don't have a cap and most of our players are pretty reasonable in what they spend.
We want to make sure they feel they are getting good value and are getting entertainment. I don't know if it's ever been a problem when we've felt... people are going overboard.
As we think about other businesses we will probably be more aware of that - as we think about more casino things where there is, I think, more risk of that.
As far as casino games go, are you pushing for the US to relax its laws over online gaming?
I think we are certainly interested in that business area. We have already disclosed that. We don't know what governments are going to do and I think that's the short answer. You can't predict what is going to happen on that front.
With Farmville 2 one of the notable features is that it offers better graphics than the original game. Going forward do you think you're moving towards a point where you will offer console-quality titles via web browsers or apps?
We are constantly pushing the envelope, but doing what is possible while still being broadly accessible.
We never want to fall into the trap of there being a whole class of people who can't play because they don't have the right system or don't have enough performance.
We try to squeeze as much as we can out of the browser or the smartphone and we'll continue to do that.
The other aspect is that we really want to be accessible. So I don't think we'll ever get to the point where in a game you have to have a mouse and keyboard and lots of key combinations and special fast twist things because while some classes of users might like that it turns many players off.
They look at a game and say: "That is too hard, how am I ever going to even navigate that world."
So with Farmville 2 we did a lot of things to keep it accessible even though it's a richer environment. We didn't want something where there's a big learning curve
How about gesture controls - is that something you are looking at now we have the Kinect sensor for PCs?
I don't know if we are doing so much with that, but certainly on smartphones we have experimented with games like Dream Zoo playing around with how we can use the accelerometer in interesting ways.
We are exploring are there interesting things we can do that take advantage of new ways of gathering data.
And I think there is more to come. I think location is particularly interesting. I think that is going to be intriguing if people start to layer in some of where you are with the actual gameplay, so I'm excited to see what we can do with that.