Judge dismisses Apple vs Motorola case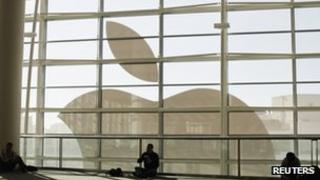 Apple can no longer pursue an injunction against Motorola Mobility, after a US judge dismissed the iPhone maker's smartphone patents lawsuit.
Judge Richard Posner ended the case "with prejudice" between the firms, meaning that neither can re-file the suit - but an appeal is possible.
Reuters quoted a Motorola Mobility spokeswoman as being pleased about the dismissal of the case.
Apple declined to comment.
"Apple is complaining that Motorola's phones as a whole ripped off the iPhone as a whole," Judge Posner wrote in the 38-page ruling as he ended the case.
"But Motorola's desire to sell products that compete with the iPhone is a separate harm - and a perfectly legal one - from any harm caused by patent infringement."
The judge added that Apple had not clearly shown that its phones had "suffered loss of market share, brand recognition, or customer goodwill as a result of Motorola's alleged infringement of the patent claims still in play in this case."
'Expected' result
Analysts say the outcome of the trial is not a huge surprise.
"Judge Posner had previously cancelled a jury trial and indicated his inclination to dismiss the case," wrote patent consultant Florian Mueller in his blog, Foss Patents .
Mr Mueller was recently commissioned by Microsoft to study certain types of patent litigation.
"[The companies] will keep trying elsewhere: this case is 100% certain to be appealed to the Federal Circuit."
According to Mr Mueller, the ruling shows that Apple: "Didn't do its homework in terms of expert reports and witnesses to be entitled to an injunction (or the alternative, monetary compensation) while it had the chance to do so.
"He (the judge) doesn't rule out that Apple might have won either an injunction or at least damages (if it had been given the chance to prove an infringement)."
Besides being a blow to Apple, the case could also have consequences for other patent disputes in future, added the analyst.
In February, Apple won a patent dispute against Motorola Mobility regarding a "slide-to-unlock" feature on smartphones.
Motorola Mobility is in the process of being acquired by Google, and most of its handsets run on the search firm's mobile operating system, Android.
The Android system is Apple's closest rival in the smartphone market.