Nintendo to revamp 3DS handheld with bigger screens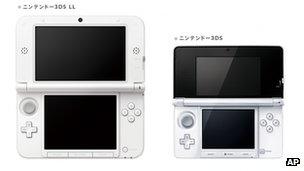 Nintendo will start selling a version of its 3DS handheld gaming console with bigger screens from July.
The 3DS LL, which will be known as the XL outside Japan, will have displays that are almost twice as big as those on the current version.
It will be priced at 18,900 yen (£150) in Japan and $199.99 (£128) in the US. No European prices have been given.
The 3DS faces growing competition from smartphones, tablets and Sony's Playstation Vita handheld.
The gadget will go on sale in Japan and Europe from 28 July but will not reach the US until 19 August.
Screens on the 3DS LL will be 4.88in (124mm) and 4.18in (106mm) across as compared to 3.53in (90mm) and 3.02in (77mm) in the older model.
The larger size of the gadget will also mean it has a longer battery life. For 3D games, the device should run for more than six hours between recharges. For 2D games it should last up to 10 hours.
About 17 million 3DS devices have been sold since the device was released in 2011
In April, Nintendo reported its first annual loss as sales of its Wii console and other gadgets started to slow. It has hopes that a revamped games console, the Wii U, will return it to profitability.
Nintendo's shares have fallen 60% since the first 3DS launched in February 2011.
Related Internet Links
The BBC is not responsible for the content of external sites.