UK LulzSec suspect charged with hacking in US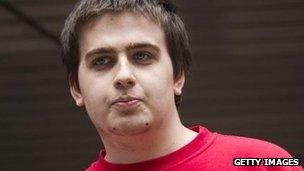 A British man suspected of being part of the Lulz Security hacking group has been formally charged in the US.
US prosecutors accuse 20-year-old Ryan Cleary, who is in custody in the UK, of breaking into a number of websites, including that of the US X-Factor.
The indictment claims that the hacks were perpetrated in order to deface sites and steal personal details.
Mr Cleary, from Wickford in Essex, also faces similar charges in the UK.
In the British case, he is accused of breaking into the website of the Serious Organised Crime Agency, another UK law enforcement agency and various British music sites - all while he was a teenager.
The US indictment alleges that LulzSec hacked into the computer systems of Sony Pictures Entertainment in June 2011 in order to steal confidential information about users who had registered on the website.
In another instance, he is accused of conspiring to steal the confidential information of people who registered for information about the US X-Factor television show, which is owned by Fox.
That was the first hack to be claimed by LulzSec, a satellite of larger hacking group Anonymous.
Mr Cleary was taken into custody in March and faces a maximum of 25 years in jail if convicted in the US.
Related Internet Links
The BBC is not responsible for the content of external sites.